10th of July 52 years ago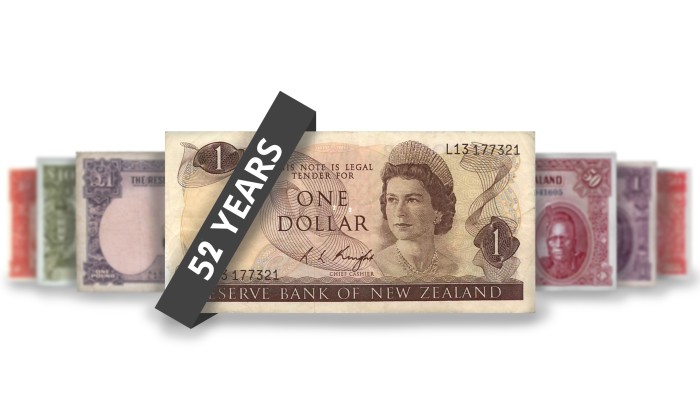 You'll be showing your age if you remember this TV commercial from back in the day.
Pounds, shillings and pence became dollars and cents fifty two years ago, when New Zealand switched to decimal currency.
The Decimal Currency Act 1964 came into effect on 10 July 1967.
It was a big shift for New Zealanders who were used to dealing with the fractional system of pounds, shillings and pence. A pound was worth 20 shillings and a shilling was worth 12 pence, so one pound was worth 240 pence.
Under the decimal system two dollars was equivalent to one pound, one dollar was equal to 10 shillings, 10 cents was one shilling and 5/6ths of a cent had the same value as one penny. To ease transition the five, ten and twenty cent coins were the same size as the sixpence, shilling and florin they replaced.
A marketing campaign featured Mr Dollar, an animated rolled-up dollar note, and a jingle which said "don't shed a tear in July next year for cumbersome pounds and pence."
The new coins were in denominations of 1, 2, 5, 10, 20 and 50 cents. The word shilling was included on the minting of the 10 cent coin until 1970 to help people make the transition to decimal currency.
The new $1, $2, $5, $10, $20 and $100 banknotes featured a portrait of Queen Elizabeth II and a watermark of Captain James Cook on the front. Different designs of native birds and plants were depicted on the reverse.
British coins were official currency in New Zealand from 1870. Distinctive New Zealand coins were introduced in 1933 using the same weights, sizes and denominations as British coins. By 1935 British coins were no longer legal tender, making New Zealand the last and most remote of the self-governing dominions of the British Commonwealth to introduce its own coinage.
The first call for decimalisation came as early as 1908 and the idea gained momentum during the 1930s. Labour MP Rex Mason submitted a series of private member's bills about decimalisation to Parliament in the 1950s, while in opposition. The bill that eventually resulted in the Decimal Currency Act 1964 was a government bill from the National government which in 1963 announced New Zealand would switch to decimal currency. The process was overseen by then under-secretary for finance and future Prime Minister Robert Muldoon.
New Zealand Parliament - Mr Dollar advertisement on the introduction of decimal currency [Source: Reserve Bank of New Zealand / Length: 32 sec]