ABORIGINAL INDIGENOUS ART IN PAEROA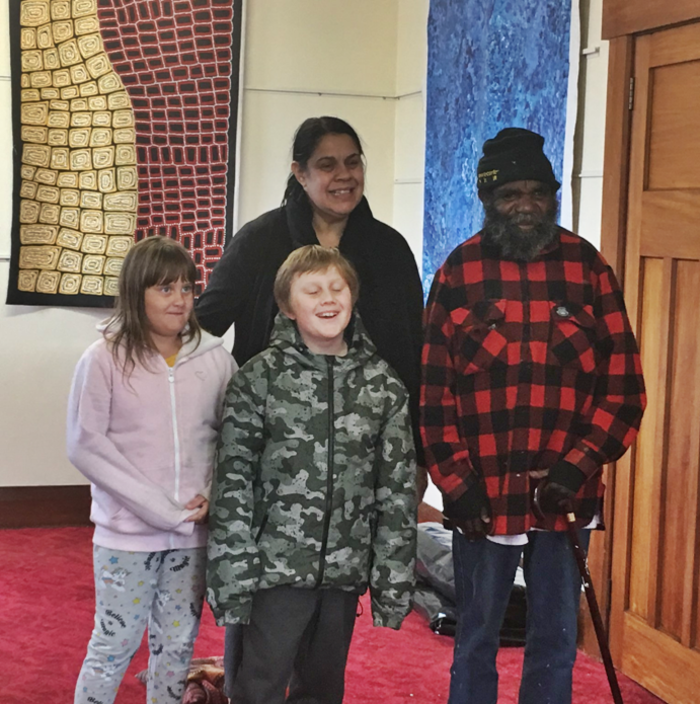 On Wednesday 4th September the arrival of Thomas and Walala Tjapaltjarri (brothers from the Pintupi Nine) along with support team, Lawrence Renata and Bryce Lillico quietly entered New Zealand. This was the start of their trip to Paeroa and an exclusive exhibition being held in the Paeroa Society of Arts Gallery for a limited time. Thomas and Walala brought with them some of their wonderful art and that of other artists including, Gracie Morton, Polly Ngale, Gloria Petyarre, Marlene Young and Betty Mbitjana all internationally renowned artists.
The official opening of the Erritja Gallery Exhibition was held at the Paeroa Society of Arts rooms on Friday 6th September. A karakia was performed by Larn Wilkinson, local Iwi & Maori Liaison Officer of the Hauraki District Council. Piri Te Tau replied with a prayer. John Tregidga, Mayor of Hauraki District Council, then spoke of his time living in Papunya in the 1970's, at the time that Geoffrey Bardon, school teacher, noticed the Aboriginal men drawing symbols in the sand then erase them. Geoffrey wanted to record these stories, so he encouraged some of the men to paint on a blank school wall. – this was the beginning of the Papunya Tula Artists Pty Ltd an artist's cooperative formed in 1972, and the beginning of the 'dot painting'.
Lawrence Renata, owner of the Erritja Gallery Moonta, who is responsible for bringing the exhibition to Paeroa, then spoke to those who attended the official opening of his involvement and work with Aboriginal in both Alice Springs and South Australia. Bryce Lillico then gave a talk of his connections with the Erritja Gallery, Thomas and Walala.
History has been made here in a number of ways. It is the first time that Thomas & Walala have been out of Australia. This is the only exhibition of these works being held in New Zealand. As well as demonstrating their Art during the visit, Thomas and Walala also had the opportunity to experience a small part of our culture. A definite highlight was the introduction to our Kai - oysters, Kina, and Mutton bird to name a few. Fishing at Kaiaua was another highlight with kahawai being caught by net, straight from the sea to the table.
During their time here, local Indigenous aboriginal woman Sonya Bunyan was able to come and connect with Thomas and Walala. It allowed time for them to share stories and art work. Sonya mentioned how important it was for her to have this time with the elders as it can be hard when you miss your people. It was also an opportunity for her children to embrace and understand the importance of their heritage and culture, keeping it alive. Thomas and Walala also felt comfortable and relaxed being around the children and Sonya, having other indigenous people to connect with whilst in New Zealand.
It has been a privilege and an honour to host this exhibition and we are delighted we have been allowed to extend our time. The Exhibition of these fabulous works will now close on the 28th September, all works on display can be viewed at Paeroa Society of Arts, 109 Normanby Road Paeroa and are for sale.