Are you ready if the worst happens?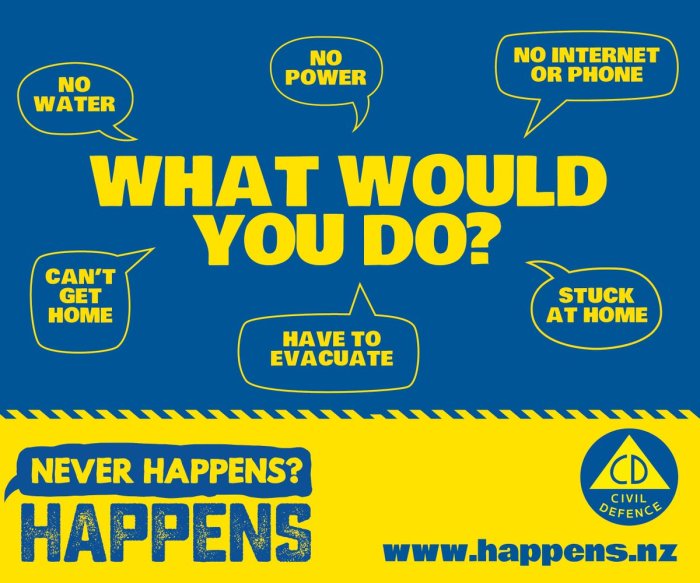 Three earthquakes, the biggest measuring 4.2, have been recorded about 45 km off Whakatane this morning.
The first, of 4.2 magnitude occurred at 3.46 am - followed an hour later with a quake measuring 4.0 at the same location.
Another, smaller earthquake (3.7) occurred at 10.28 am about 5 km further north of the earlier ones.
Is your household prepared for an emergency situation? This morning's earthquakes are considered weak but an earthquake gives no warning.
Have you ever thought about the range of impacts that could occur from emergencies (for example, power, water, or communications outages, access or transport issues, the need to stay in or out of your home for an extended period)? 
Due to its location and environment, New Zealand faces many potential disasters. In some cases, such as a weather related or volcanic disaster, there may be time for a warning.
But an earthquake or a tsunami close to land could strike without warning. 
All disasters have the potential to cause disruption, damage property and take lives. So it's vital that you are prepared.
Think about the things you would want or need to have available to you during that time. 
Create a household emergency plan.
Assemble and maintain emergency survival items.
Have a getaway kit in case you need to leave your home in a hurry.
If you have pets, domestic animals or livestock, include them in your emergency planning.
Attach a permanent disc to your pet's collar that clearly states your phone number, name and address. Microchip your pets.
If you have domestic animals (such as horses, pigs or poultry) or livestock, know which paddocks are safe to move livestock away from floodwaters, landslides and power lines. In the event of an evacuation, ensure you have a plan in place so that they will be secure and have food, water and shelter. The responsibility for animal welfare remains with the owner.