ArtWaikino 2018 done and dusted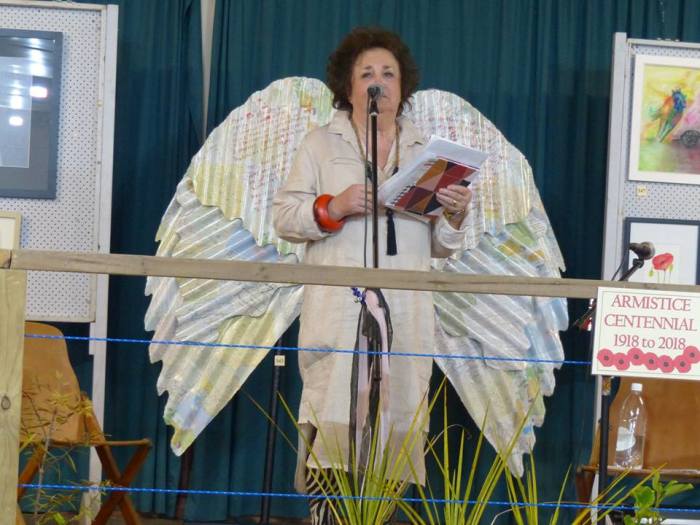 ArtWaikino closed its doors for another year at 4 pm yesterday. Some stunning art was on display. 
The supreme award sponsored by Oceana Gold was won by Wilma Van Veen from Tirau with her painting titled "Life." Paula McNeil the judge commented, "the connection between the boy and bird, control of colour and balance, you feel the mood." Wilma also won best painting, sponsored by Visique Optometrists.
Second place getter was Sally Thrush with her painting, "Nikau." The judge's comments "composition, design and control, understanding the medium. 
Third place, described as "brave modern, makes one think," went to Joe Hale with "The Empire Strikes." 
Commendations went to Gloria Hodge for "Still Life with Protea, Heather Owen for "Early Morning Anchor and Michael Barker for "Shearer."
The craft category was won by Dave Mangino for his leather bridle. The judge's comments were "detail and finish, tone combination thought and care". Second place went to Kay Jenkins for "Bird Warriors III". "Appeal, funky, texture, design and colour glazes" caught the judges eye. 
Esther Nitschke was placed third, with her handwoven tea towels, "beautifully worked, great colour and design." Commendations went to Holly Rose Morgan, Ian McKennan and Gaye Mitchell.
The Armistice category sponsored by Waitawheta Adventure Camp was won by Sally Thrush for her "Lone Poppy." The judge's comments were "beauty in the message and workmanship."
First place in the photography category, people went to Jo Bryant with "The Violinist." Annette Johnston the judge commented, "simple, understated but utterly compelling. Second place went to Jo Bryant with "Guitar Man." Comments were, "grungy and edgy" and third place was "Ready to Roll" by Kathy Bland, "environmental portraiture at its best." Commendations went to Karen McLeod and Jeanette Nee.
Photography other winner was Pavla Petherick with "Manuka Native Vase." The judge's comments were, "beautifully lit, the centred composition is ever so slightly alleviated by the one discarded branch." Second place went to Monique MacFarlane with "Birds on a Wire." Judge's comments were, "an image filled with tensions: photographic contradictions abound!" Vince Lowe took out third place with "Something Special." Judge's comments, "A combination of shapes, curves and angles coalesce seamlessly in this rather compelling, but modest nude." Commendations went to Ian Purden, Danny Richards and Jeanette Nee.
Phillip Mendel won the sculpture section, sponsored by The Falls Retreat, with "Maiden Head." The judge's comments were "thought, movement, good use of materials, interesting." Second and third place went to Mathew Sayer with "Comfy Garden Seat" and "Giving Hands" respectively. Tony Howse and Ian McKinnon were commended.
ARTWaikino judge Paula McNeill looked positively angelic when she stood in front of the 'wings' entry into the Armistice section of ArtWaikino on Friday night.