Conservation protest group processed for trespass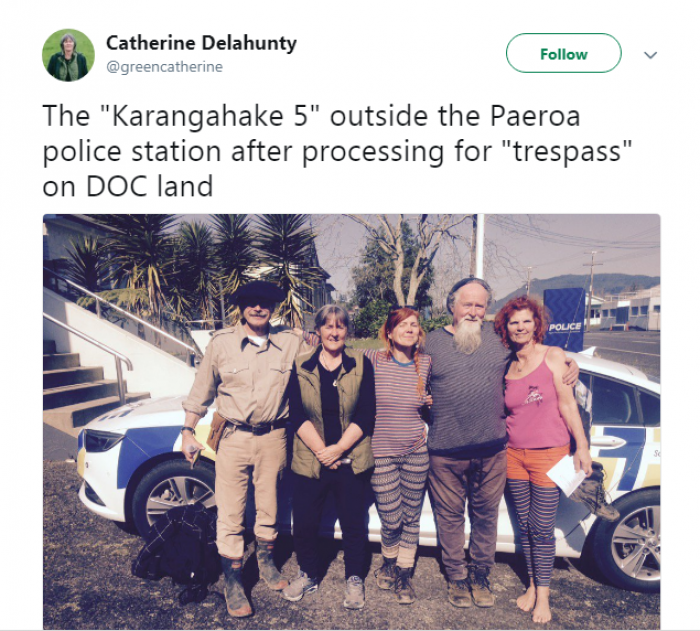 Police and mining security intervened after twelve Coromandel locals, including ex-politician Catherine Delahunty, set-up camp in the middle of the New Talisman Gold Mine site, risking arrest today.
New Talisman Gold Mines was granted permission to start mining activities within the Karangahake Mountain area and have fenced off parts of the conservation estate preventing public access. They are altering the roading to enable large trucks to access the mine portal, putting at risk the pedestrian access to popular walking tracks, protesters say.
"We want the Ministers for Environment and Conservation to honour their pre-election pledges that would see this land protected under schedule 4," said Karangahake resident Lucy Aitken-Read, who added the 'pop up' campsite to Air BnB this morning, inviting anyone in the area to come camping with the group.
"We are also appealing to New Zealand First to see the problem we face as our community benefits from the tourism generated by this beautiful place and all those local incomes that will be put at risk by a mining company that will do little for our local economy."
"The mining company has got to go. We are here today to make a stand for the conservation estate and to protect our wild and precious places. If that means we are arrested then we hope it raises awareness of this issue, but we know that it's the mining company which needs to leave, not us, "Lucy Aitken Read said before being arrested for trespass with four others.
Former Green MP Catherine Delahunty was amongst those arrested for occupying conservation land at Mount Karangahake. Augusta Macassey-Pickard, spokesperson for Coromandel Watchdog of Hauraki, said afterwards, "They were peacefully protesting the mining activity that has been allowed in the area, and highlighting that Conservation land is for the people, not for mining. It beggars belief that our communities are being put into this situation; that they are having to go to extreme lengths, risking arrest, simply for saying that they do not want this Australian company to come in here and mine, compromising their tourism, their water and their quality of life."
Catharine Delahunty tweeted a photo of the group dealt with by police