Coromandel Rescue Helicopter Petition presented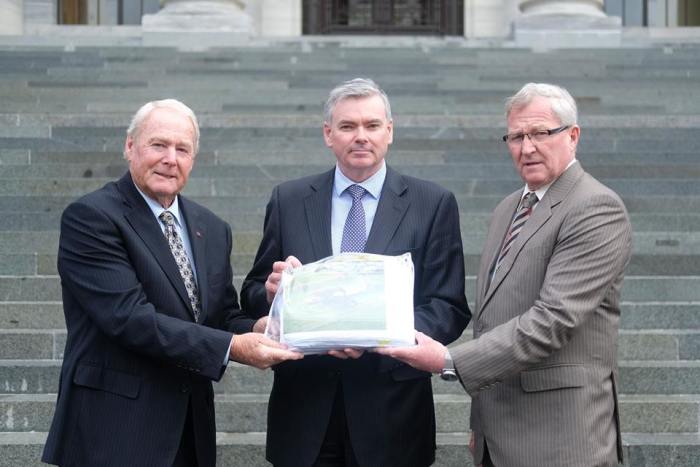 An 8500 signature petition calling on the Government to include Whitianga and Coromandel rescue helicopter services in the tender process was presented by Coromandel Rescue Helicopter Trust members to Coromandel MP Scott Simpson at Parliament today.
"The Government has failed Whitianga and Coromandel residents at the very first hurdle by not including the existing rescue helicopter services in the tender for review of nationwide rescue helicopter services," Mr Simpson says.
"It will be simply unacceptable to local residents and the hundreds of thousands of visitors to the Coromandel Peninsula each year if existing services are reduced in any way.
"The Minister was not prepared, when asked, to commit the inclusion of Whitianga, Rotorua, Taupo and Te Anau as locations for a base for an air ambulance when given the opportunity to reassure the community.
"This means that these bases may close because they are still not included in the request for proposals and won't receive the necessary support – this is not good enough. This would mean that the helicopters would not be dispatched from a local base.
"It is difficult to see how clinical outcomes can be improved if air ambulances are dispatched from further afield. Surely the Minister can acknowledge that the extra time that it will take to travel the further distance may be the difference between life and death for some patients.
"When the Minister was further questioned whether he could commit to the people of regional New Zealand that the timeliness and quality of the air ambulance service would not be diminished he would not address those concerns.
"The fact that the Minister wouldn't directly address these points is worrying. His evasive answer that 'the tender process was driven by a desire to improve clinical outcomes' is at odds with the fact that a number of bases have been left out of the tender.
"Local Coromandel communities have supported and helped fund the existing facilities. If those services are reduced lives will be at risk."
Photo: Scott Simpson with Walter Russell, Chairman of the Coromandel Rescue Helicopter Trust and Brian Bowering, Trustee of the Coromandel Rescue Helicopter Trust