Cultsy's Waihi Rugby Scoop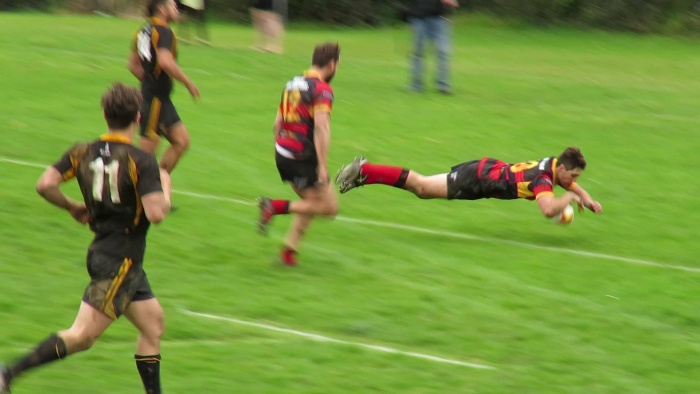 Waihi Rugby supporters and club sponsors had plenty of reasons to celebrate when on Saturday the premier team convincingly won their semi-final McClinchey Shield game 41-10 against Mercury Bay. 
They head to the final next week at Thames and will face a Thames side who won their semi final 17-14 in a close battle with Waihou.
Waihi went into Saturday's game as slight favourites having beaten Mercury Bay in the games played against each other this season. Apart from a brief hiccup when flanker Matt Hart was sin-binned taking out a player in the air from the opening kick-off, Waihi were always in command running in five tries. All of these converted by Reuben Meares who also added two penalty goals for a personal tally of 16 points. 
Waihi scored three tries in the first half. Ethan Seymour grabbing the first of these, closely followed by Tate Van Duyvenboden scoring after some great back up work. Fullback Jesse Dodunski has scored some great tries this year, none better than his solo effort on Saturday when from inside his own half he gathered a Mercury Bay clearing kick and raced 50m leaving many would be tacklers in his wake.
Waihi took a 24-5 lead into the break, the large crowd enjoying Waihi's dominance. The second half started with Waihi carrying on with the momentum they had built up in the opening spell. Centre Joe Davies was the benefactor of the good territory and possession Waihi were creating. He burst through breaking the oppositions mid-field defence scoring a fine try, pushing Waihi out to a 31-5 lead. 
The home teams final try was probably the best of the day, live wire prop Joel Street got his hands on
the ball while out seagulling on the right flank. Instead of using his flying winger outside of him, he himself sidestepped, swerved then dummied to race 25m to the try line. I am sure it was out by 50m by the night's end. He deservedly won forward of the day with half back Jacob Seymour picking up the back honours having his best game of the season. 
All roads lead to Thames next Saturday the players urging all supporters to bring their red and black colours to the game, helping them to bring home the illusive McClinchey Shield for the first time. 
The senior B's season came to an end on Saturday when they were beaten 23-15 in their semi final at Whangamata. It was another great effort from a side who have given their best all season, they will take plenty of confidence into next season knowing they can match its again some highly rated 
opposition.
Graeme Culton
Photo credit: Ed Leahy - Joe Davies Scoring with Adam Ryan in support