Cultsy's Waihi Rugby Scoop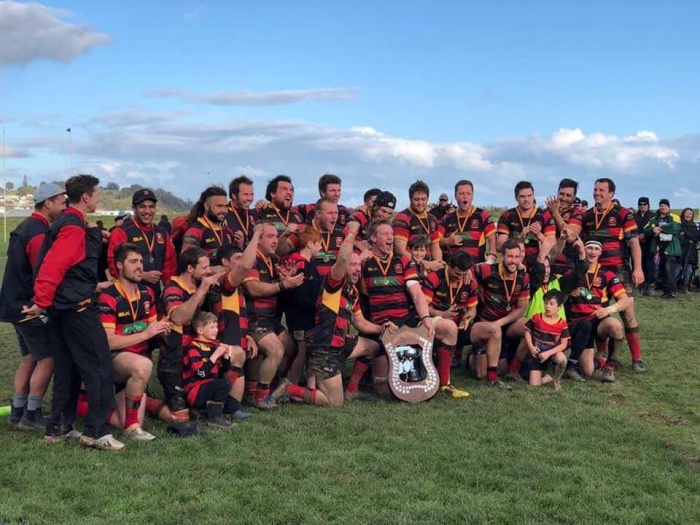 Waihi's Premier Rugby team ticked the Final Box of their stellar rugby season, when on Saturday they defeated Thames 26-17 in a hard fought and highly entertaining encounter. 
In doing so this talented, well coached side has made club history by winning the coveted McClinchy Cup for the first time, a trophy that has been contested for by Thames Valley clubs for the last 60 years.
With the Silcock shield and Tom Jordan cup already in the trophy cabinet for the summer, success has never been better. A huge contingent of Waihi Supporters made the trek across to Thames for finals day, their vocal support certainly helping the teams cause.
Waihi took first use of the stiff breeze, but struggled in the early exchanges to gain enough possession to take advantage of the elements. It was Thames would open the scoring with a well taken try to their fleet footed winger. 
Waihi replied immediately when from the kick-off Waihi forced an error and it was that man again, Joel Street dotting down to level the scores.
It was entertaining rugby, both packs not giving an inch, the backs giving the ball plenty of air, trying to break through the solid defensive lines. The Thames centre was giving Waihi plenty of trouble every time he touched the ball. He scored the second try for Thames, a great individual effort pushing his side out to a narrow lead.
Waihi needed something to happen before the half-time break
and it was inspirational loose-forward Brett Ranga who provided the magic. Fending off several would be tacklers, he crashed over the try line with many defenders desperately trying to hold him up. 
A Reuben Meares penalty completed the first half scoring, giving Waihi a hard fought 13-10 lead at the break.
The weather conditions were improving, the wind dropping away nullifying Thame's second half advantage.
From the kick off Waihi went straight onto the attack with Jethro Meares scoring early on.
As the half progressed Waihi introduced their strong bench players. This proving to be the difference between the two sides. 
Continual pressure kept Waihi in great field position. Meares adding two more penalties pushing Waihi out to a 23-10 lead going into the last quarter.
Thames threw everything at Waihi desperate for
points. Waihi's defence was superb in these closing stages keeping Thames to a last-minute try, with time all but up on the clock Meares had time for one more penalty goal. 
The Trophy was theirs and history had been made.
Photos: Clinton Bowerman
Team Presentation
Team Celebrating the final whistle
Captain Matt Rolston lifts the trophy aloft for the first time