Gold FM Police File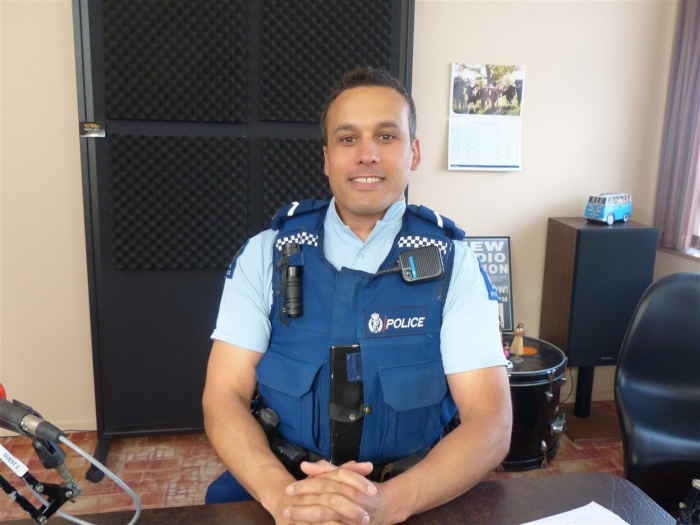 Community Constable Harley North updated the Gold FM Police File this week.
Police have dealt with a variety of incidents recently from chicken drumsticks and lamb chops strewn on the road, theft from vehicles, assaults, drugs, motor vehicle crashes - including a 6 year old child being hit by a vehicle to teenage girls experiencing adverse reactions to synthetic drugs at Morgan Park.
As Harley was checking his police updates in the studio to see if anything worth reporting had happened overnight (Monday 14 May). He read that a truck and trailer negotiating an 85 km bend lost 1.1 tonnes of meat out of the side door of one of its chillers at Tatunui. He said it looked like a door pin came loose so the incident was not driver related but lamb chops and chicken drumsticks were strewn across the highway and took about four hours to clean up.
Monday 7 May
Police received two reports of vehicles broken into overnight at Martin Road and Galbraith Street, Waihi. Various property items stolen. Police are investigating forensic leads.
Tuesday 8
A 20 year old Waihi male was arrested for a historic assault matter where he punched another male at BP Waihi. He received a pre-charge warning.
Wednesday 9
A 33 year old Athenree male was arrested at Tauranga for possession of cannabis for supply after police executed a search warrant at his Athenree home address. Police seized over 8.2kg of dried Cannabis plant material. The male is facing a serious drugs charge. His 30 year old brother has also been charged with drug offences.
Saturday 12
Police attended a car v pedestrian traffic crash at Wilson Road, Waihi Beach. A 6 year old child was hit by a car. The child sustained moderate injuries and was taken to Tauranga Hospital. Police are investigating.
Sunday 13
Police attended a car v motorcycle traffic crash at the intersection of Trig Road and Waihi Beach, Waihi. The motorcyclist was airlifted to hospital with serious injuries. The two occupants of the vehicle were uninjured and transported to Auckland by police. Police Serious Crash Unit are investigating.
Police were called to assist ambulance staff at Morgan Park, Waihi after three female juveniles aged 13-15 years are believed to have consumed synthetic cannabis. One of the girls allegedly had a seizure and was unconscious while the others showed severe adverse reactions to the drugs. They were all taken to hospital for treatment. Police are investigating.
Note
Police attended a further three single vehicle traffic crashes during the week. All appear to have been avoidable and were caused by driver carelessness and failing to drive to the conditions.
Waihi Police are interested in any information relating to crime. For non-urgent matters or enquiries contact Police 24/7 on 0800 780 101 (ask for the Crime Reporting Line) or to remain anonymous call Crimestoppers 0800 555 111; or visit the Waihi Police Station during public counter open hours Monday to Friday 8:30 am to 3 pm. For urgent matters call 111 and ask for police.
Click play to hear the full Police File with Community Constable Harley North.