Gold FM Police File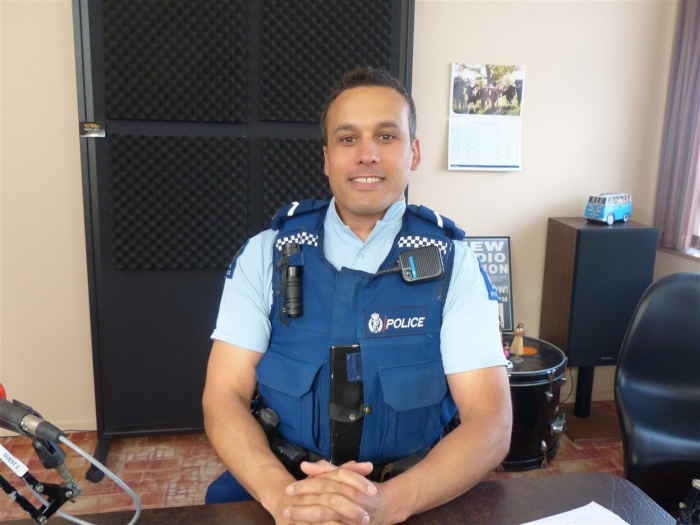 Community Constable Harley North joined Brian Gentil in the studio to talk about a busy week for local police. If you can help with any ongoing investigations please contact Waihi Police. Full details are below.
Tuesday 26 June 
Police attended an attempted car theft incident at Elliot Street, Waihi. Two windows were smashed by an offender. The car alarm activated and the offender fled from the scene.
A Waihi male and his female associate were served with trespass notices at a Canon Street, Waihi address relating to a Hamilton residence where they had been earlier in the day behaving in a threatening manner.
Police attended an oil spill at SH2 Karangahake after a truck lost 9 litres of oil on the highway. Roading contractors were brought in to clean up the spill.
Two vehicles were stopped by police at Anzac Bay after reports were received that they were doing burnouts. The drivers received multiple infringement notices for their actions. Both drivers are local Waihi males.
Wednesday 27 June 
A Waihi male was arrested on a warrant to arrest at a Russell Street, Waihi address for breaching his probation conditions. He was held in custody at Hamilton for Court
Eastern Waikato Police conducted a road policing operation between Waihi and Thames coast targeting restraints, distracted drivers, impairment and other offences. The operation was a success with multiples offences dealt with by way of warnings, infringements and prevention referrals to community partner agencies to remedy various issues.
Police attended a traffic crash at SH2, Karangahake near Rahu Road. A ute crashed into a power pole. The driver did not sustain any injury however the power pole was destroyed. Copper cabling from the pole lay over the road. The cables also wrapped around a truck and trailer unit cutting the air line causing the truck brakes to lock. This stopped the truck in the middle of the road for a period of time.
Thursday 28 June 
Police attend an assault incident at Victoria Street, Waihi involving two younger males allegedly being attacked by an older male. It was also alleged that weapons were used including a bat. The older male fled the scene prior to police arrival and investigations are ongoing.
Friday 29 June 
Waihi Police assisted Whangamata Police with a search warrant at an Apperly Street, Whangamata address. An imitation firearm and drugs were seized and a Whangamata female was arrested at the scene.
Saturday 30 June 
A unit at Waihi Beach Top 10 holiday Park was broken into sometime within the last week. A window was forced open and the offender attempted to lever a tv from a wall unsuccessfully. Police are awaiting forensic testing.
Sunday 1 July 
Police attended a two car traffic crash at Seaforth Road, Waihi Beach. A driver carried out a u-turn into the path of another vehicle. The driver of the first car was transported to hospital with moderate injuries.
A Kenny Street, Waihi address was burgled overnight. The occupier woke to noises at about 1:00am and went to investigate discovering that his wallet and other items had been stolen. Police are awaiting forensic testing.
A Union Street, Waihi address was burgled overnight. A commercial grade water blaster was stolen. It is red in colour and is branded 'split water'. Police would like to speak to anyone who has any knowledge about this case.
Monday 2 July 
Waihi Central School was burgled overnight. A shed was entered and several tools were stolen. Police are investigating.
A commercial premises at Consols Street, Waihi was burgled overnight. Two males were captured on CCTV surveillance camera. Police are investigating.
Waihi Police are interested in any information relating to crime. For non-urgent matters or enquiries contact Police 24/7 on 0800 780 101 (ask for the Crime Reporting Line) or to remain anonymous call Crimestoppers 0800 555 111; or visit the Waihi Police Station during public counter open hours Monday to Friday 8:30am to 3pm. For urgent matters call 111 and ask for police.
Click play to hear the full Gold FM Police File.