Gold FM Police File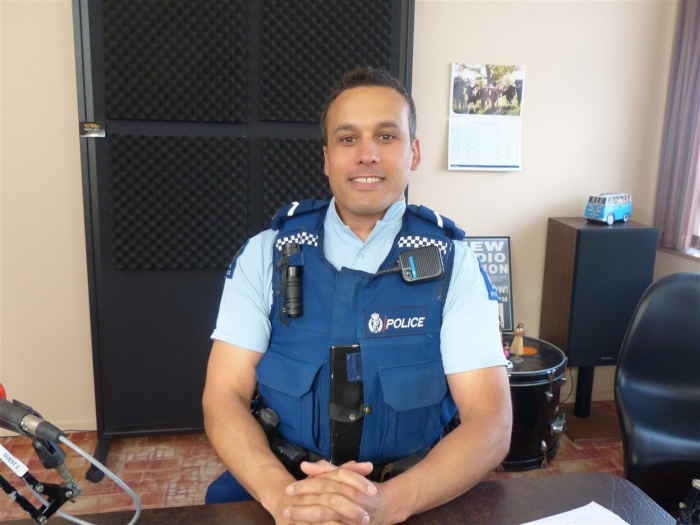 Community Constable Harley North called into the Gold FM studio to update the Police File this week.
Tuesday 9 October 
Police attended a two vehicle traffic crash at the intersection of SH2 and Campbell Road. A female driver sustained a minor injury. She was waiting to turn right into Campbell Road from SH2 and another vehicle failed to see her and crashed into the rear of her vehicle. Police are investigating and charges are likely to follow.
Wednesday 10 October 
Another traffic crash at SH2 and Dean Crescent. A car travelling south crossed the centre line and crashed into a campervan heading north. The two occupants from the car sustained moderate injuries and were hospitalised. Driver fatigue is believed to be a factor. Police are investigating.
Two teenage Auckland males that were captured on CCTV lurking around private properties at Bowentown were identified and spoken to last week. They received a warning for being unlawfully on a property.
Thursday 11 October 
A 47 year old Waihi male was arrested and charged for receiving stolen property in relation to a historic burglary of a commercial premises at Roberts Street. He is due to appear in Court shortly. 
A 36 year old Waihi male was arrested on a warrant to arrest after failing to abide by his probation conditions. He was held in police custody and transported to Hamilton for Court. 
A Nissan Skyline vehicle was seized and impounded by police for 28 days after it was observed by police doing burnouts at Seaforth Road, Waihi Beach. The 25 year old male was summonsed to Court for sustained loss of traction. 
A single vehicle lost control at SH2 Athenree and crashed into a culvert. No other vehicles were involved and the driver escaped injury. Failing to drive to the wet conditions at the time is a likely factor. Police are investigating.
Friday 12 October 
Police attended a serious crash at SH2 Athenree involving a head on collision between a car and truck. The car was heading north and is believed to have crossed the centre line into the path of the south bound truck. The female driver was airlifted to Waikato Hospital with serious injuries. The truck driver escaped injury. All emergency services were on the scene. The Waikato Police Serious Crash Unit is investigating.
Monday 15 October 
A 19 year old Waihi male was arrested and charged for disorderly behaviour and dangerous driving in relation to a historic violence incident at Amaranth Street. He is due to appear in Court soon.
Police crime prevention advice for the week: 
The underlying causes of crashes are the same all year round. New Zealand has a high volume of cars on our roads due to various factors. With this high volume of traffic comes increased risk. The biggest difference you can make as a safe and prudent driver is to always put on a seatbelt and slow down. A reduction in vehicle speeds is one of the most significant ways to improve survival. Some people have the perception that going faster saves time and gets you to your destination faster. The difference in reaching a destination travelling at 100kph compared to 110kph is about 30 seconds. A 30 second time saving is not worth losing your life over or ending someone else's. Police will always emphasise the need to reduce speed. A reduction in vehicle speeds is one of the most significant ways to improve survival.
Waihi Police are interested in any information relating to crime. For non-urgent matters or enquiries contact Police 24/7 on 0800 780 101 (ask for the Crime Reporting Line) or to remain anonymous call Crimestoppers 0800 555 111, or visit the Waihi Police Station during public counter open hours Monday to Friday 8:30 am to 3 pm. 
For urgent matters call 111 and ask for police.