Gold FM Police File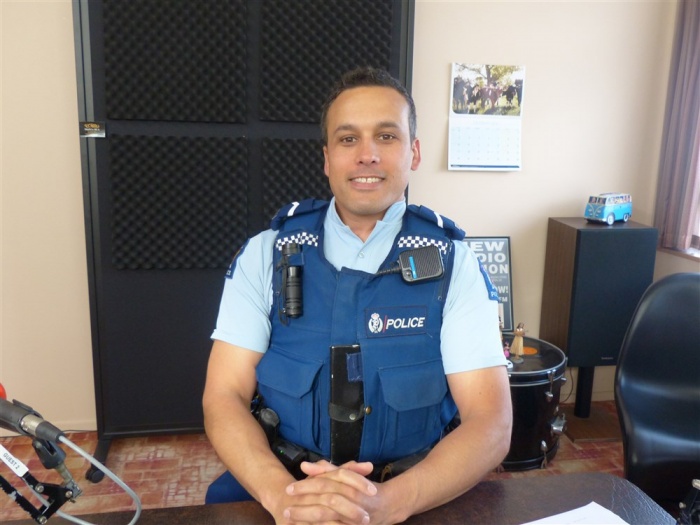 Community Constable Harley North updated the Gold FM Police File this week. Listen in to the podcast to hear the full details.
Tuesday 16 October
A shed located at a Kenny Street property was burgled overnight. Property was stolen and police are investigating.
Wednesday 17 October
Two large planter pots were stolen overnight from a Seaforth Road, Bowentown address. Police are investigating.
A car towing a trailer transporting three cows came unshackled and tipped over at the intersection of Old Waitekauri Road and Campbell Road. One of the animals had to be euthanised as a result of its injuries. The driver was issued with an infringement notice.
Thursday 18 October
A 49 year old Waihi male was arrested and charged with threatening behaviour in relation to a civil dispute which turned ugly at Baber Street.
A 41 year old Waihi male was arrested and charged in relation to a historic serious assault incident which occurred at Waihi Rugby Club.
Friday 19 October
Police and other emergency services attended a three car minor injury traffic crash at SH2 Waimata. A vehicle travelling north on toward Waihi failed to stop short and crashed into the rear of a stationary vehicle turning off into an address. A third vehicle heading south on SH2 was also struck as a result of the first crash. All involved were lucky to escape serious injury. Police are investigating and charges are likely to follow.
Another traffic crash at Moresby Avenue and Seddon Street. A car towing a caravan crashed collided with a pedestrian. The pedestrian sustained moderate injuries and was transported to hospital. Police are investigating.
A 23 year old Waihi male was arrested and charged for shoplifting and driving whilst forbidden in relation to a historic theft incident at Mitre 10 Waihi.
A 12 ft aluminium boat was stolen from a burglary at an Abbot Road, Waikino address. Police are investigating.
Saturday 20 October
A 29 year old Tauranga female was stopped driving by police at Seaforth Road, Waihi Beach. She was caught speeding at 123kph in a 50kph area of Seaforth Road. She was also tested for alcohol and returned a result of 560 micrograms. Her vehicle was seized and impounded for 28 days and her driver licence was suspended. She is due to appear in Court soon.
Saturday 20 October
Police are seeking witnesses of a two vehicle non-injury traffic crash at Waihi Beach Road. A red Holden Commodore exiting a driveway collided with a silver sedan travelling toward SH2.
Tuesday 23 October
An orchard property was burgled overnight at Waihi Beach Road. This is the second time the property has been burgled in the last 2-3 days. $10,000k worth of roofing iron and building materials were stolen. The roofing iron is a dark charcoal grey colour. Several offenders would have been required to take the materials along with a flat-deck trailer or truck. Police are seeking information.
Police crime prevention advice for the week:
Between the 24th and 28th of October it's national 'Crime Prevention Week'. It's a timely reminder that Burglary and theft are not unique to Waihi and is an issue all over. You can reduce the likelihood of being victimised by target hardening your property by securing your house and vehicle when they're unattended and placing valuable items out of sight. These two simple tips can deter thieves who are generally opportunists who exploit easy targets. This week local police are teaming up with Bunnings Paeroa promoting 'Protect Your Tools' to our local tradies who are frequently victims of theft and burglary. The trade in stolen tools is extensive nationwide. One of the tips we will be promoting to tradies is to engrave tools and record serial numbers utilising Operation SNAP; a free website where anyone can register and upload all their valuables descriptions including photos, receipts, serial numbers, unique identifiers, makes and models. If the worst was to occur then at least you will have all the information you need for police and insurance companies when making a report. Serial numbers are 'gold' to police when it comes to tracking stolen property and holding offenders to account. Another way you can help prevent crime in your community is to consider joining the Waihi and Waihi Beach Community Patrol (known as CPNZ). Both patrols are currently seeking more volunteers. If you're interested in giving back to your community through service; why not join the patrol and help your local police to prevent crime. CPNZ patrols are independent of police but they work closely together. They are the eyes and ears for local police. Full training is provided and patrollers work in teams of two or more. Contact local police for more information.
Waihi Police are interested in any information relating to crime. For non-urgent matters or enquiries contact Police 24/7 on 0800 780 101 (ask for the Crime Reporting Line) or to remain anonymous call Crimestoppers 0800 555 111; or visit the Waihi Police Station during public counter open hours Monday to Friday 8:30 am to 3 pm. For urgent matters call 111 and ask for police.