Gold FM Police File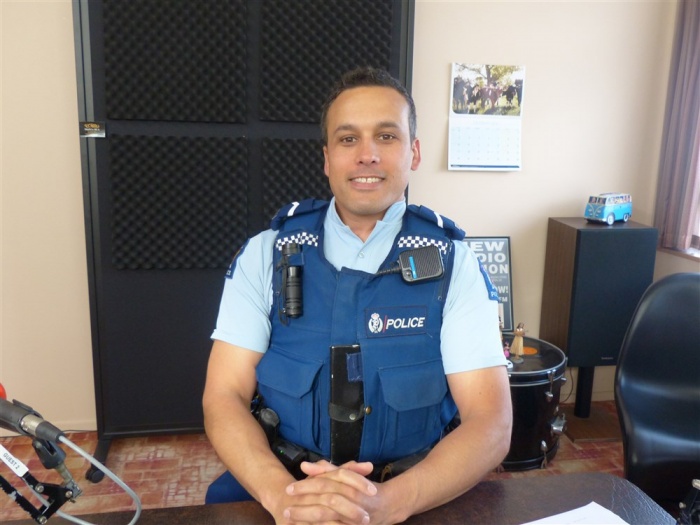 Senior Community Constable Harley North updated the Gold FM Police File. It's been a very busy week for police with everything from concerns regarding door to door salespeople, a stolen bikini, vehicle incidents, drink driving, burglary, shoplifting, disorder and more including a police pursuit featured. 
Listen in to hear what has been keeping police so busy. 
Monday 3 December
A vehicle failed to stop short and crashed into the rear of another vehicle that was stopped for pedestrians at the Rosemont Road zebra crossing. The offending driver will be issued with an infringement notice for failing to stop short.
Tuesday 4 December
Police were called to ANZ Bank after a male demanded private information about a customer and became threatening toward staff when it was refused. Police found him a short time later and served a trespass notice on him. Police are also investigating a fraud offence in relation to the same incident.
Reports have been received of a suspicious door to door salesperson attempting to sell vacuum cleaners to Waihi residents. In a recent report the salesperson targeted an elderly female member of the community and refused to leave her property when his offer was declined. Police are seeking information from the community regarding the identity of salesperson.
A bikini was stolen from the stairwell of Pacific Apartments Wilson Road, Waihi Beach and believed to be attributed to further Crate Day shenanigans.
Police attended a single vehicle traffic crash at Athenree Road. The vehicle had left the road and crashed into a paddock landing on its side. The driver had left the scene prior to police arrival. Police spent a significant amount of time trying to track the driver down to determine whether they needed medical attention. The driver presented at Waihi Police Station the following day and was found to be uninjured.
Wednesday 5 December
Police stopped a vehicle at Kenny Street after reports it had been driving erratically and failing to keep within it's lane at SH25 from Whangamata to Waihi. A Tauranga woman underwent breath alcohol testing procedures and a blood sample was taken. Her vehicle was left on the roadside and she was forbidden to drive. Police are awaiting blood test results.
A 48 year old Athenree male was arrested for threatening a 17 year old male at Silverton Road. He was later released with a pre-charge warning.
A 23 year old Waihi male was charged with shoplifting from New World Waihi and was summonsed to Court.
Friday 7 December
A 19 year old Paeroa male was stopped driving at Gilmour Street. Checks revealed that he was a suspended driver. His vehicle was impounded for 28 days and he was served with a summons for driving whilst suspended.
Saturday 8 December
Police attended a disorder incident near the intersection of Featon Road and Mackay Street involving physical violence. Witnesses have been spoken to and the parties have been identified. Police are investigating.
A 28 year old Waihi Beach male was stopped driving at Seaforth Road. He underwent alcohol breath test procedures and returned a result of 441 micrograms. He will be appearing in Court soon.
A 22 year old Waihi male was stopped driving at Adams Street and checks revealed that he was a suspended driver. He was summonsed to Court for driving whilst suspended. His vehicle was impounded for 28 days. Later that evening the same male was stopped driving another vehicle at BP Waihi. He is now be facing a second charge and got another vehicle impounded.
A 21 year old Waihi male was stopped driving at Parry Palm Avenue and underwent alcohol breath testing procedures. The result of the test was 713 micrograms. His licence was suspended for 28 days. He will be appearing in Court soon.
A youths bicycle was stolen from outside New World Waihi by a male Caucasian offender who casually walked up and stole it. Police enquiries with the offenders associates resulted in the bicycle being handed back to police a short time later. Police are still investigating to identify the male.
A 40 year old female was arrested for burglary at a Victoria Street, Waikino address after unlawfully entering the property, taking a shower and stealing a key. Police found her a short distance away at Old Waitekauri Road.
A 24 year old Tauranga male is currently being sought by police after he allegedly forced entry into two Didsbury Drive properties and caused significant damage smashing a window and damaging door locks and external walls. He has been identified and is believed to have left the area. Police are investigating.
Sunday 9 December
Waihi and Paeroa Police assisted Thames Police with a pursuit involving an offender who was unlawfully at large and in possession of a stolen vehicle at Tapu Coroglen Road. A police patrol vehicle was rammed twice and the police officer behind the wheel sustained a broken hand from the impact. The offender was able to drive off and dumped the stolen vehicle a short distance away. He was unable to be located and police are making enquiries as to his whereabouts. Police are seeking further information from the community.
Monday 10 December
Waihi Police arrested a 20 year old Palmerston North male after a pursuit which began in Paeroa where the male stole $70 fuel from the Gas station. He was found driving in Waihi and failed to stop for police. He drove at dangerous speeds along SH2 to Katikati then came back toward Waihi. He was stopped after police deployed spikes near Tuapiro and took him into custody.
Tuesday 11 December
A 29 year old Auckland male was re-arrested on a warrant to arrest at a Haszard Street address. The male initially fled from police at Seddon Street after being arrested and escaped custody temporarily until he was located a short time later. He has multiple current active charges before the Court.
Police Crime Prevention Advice for the week:
If you're planning on avoiding the crowds at the shopping malls and doing your Christmas shopping online, here are a few tips: Check your web browser for URLs that start with "https" and a padlock logo. This will ensure your transactions are safe and secure. Use a credit card not a debit card because credit cards are better protected against fraud and they don't charge immediately from your account which gives you and the bank time to stop dodgy payments. Use secure reputable payment methods like PayPal who offer added security protection and sometimes compensation should things go bad. Remember that legitimate retailers will not ask you for your login details via email, so don't reply to them as it's most likely a phishing scam. And if a deal looks too good to be true it probably is so don't be tricked into handing over your money.
Waihi Police are interested in any information relating to crime. For non-urgent matters or enquiries contact Police 24/7 on 0800 780 101 (ask for the Crime Reporting Line) or to remain anonymous call Crimestoppers 0800 555 111; or visit the Waihi Police Station during public counter open hours Monday to Friday 8:30 am to 3 pm. For urgent matters call 111 and ask for police.
Listen to our podcast to hear the full details.