Gold FM Police File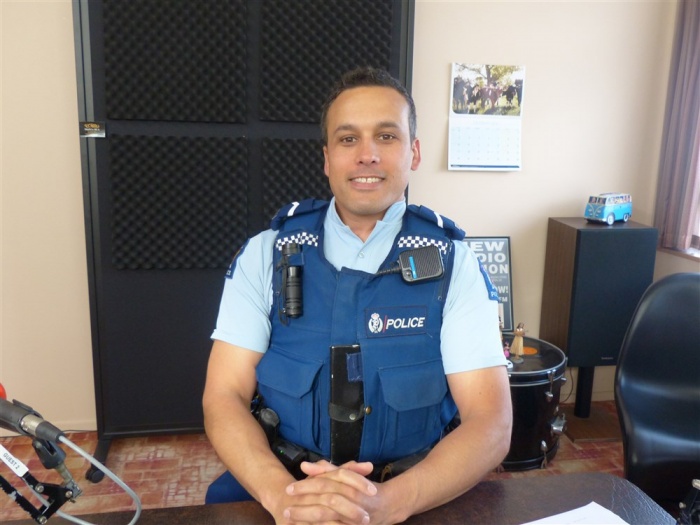 Senior Community Constable Harley North updated the Gold FM Police File this week. Police are keen to hear form anyone who can help with their investigations into a number of recent incidents. Read more below and listen to our podcast to hear details.
Tuesday 15 January 
A 38-year-old Athenree male was arrested and charged for unlawful conversion of a motor vehicle after failing to return a courtesy car to an automotive repair agent. He subsequently failed to appear at Court and now has a warrant issued for his arrest.
6 x burglaries were reported to police. Locations include residential properties at Leo Street and The Loop, Waihi Beach and Lawrence Road, Waihi.
Two commercial premises were burgled including Waihi Transfer Station and Tandoori Chambers restaurant. Various property items and cash were stolen. Police are seeking information from the community. Forensic evidence was obtained from some of the crime scenes and police are awaiting the test results.
A 40 year old Waikino female was arrested at a Seddon Street address after a violent altercation. The female allegedly stole a wallet at the address and when confronted she smashed a window in the house. Police attended and the female resisted arrest and assaulted a police officer.
Wednesday 16 January 
A 44 year old Athenree male was arrested and charged with Dangerous Driving and Assault with a Weapon after a traffic incident at Athenree Road. The male is alleged to have responded violently to another driver by stopping his vehicle and punching the driver. He then returned to his vehicle, carried out a u-turn and rammed the other vehicle and left the scene.
A 27 year old Waihi male was arrested for threatening behaviour after an altercation at a Waihi Beach Road address. The male allegedly arrived at the scene trying to extort property from another male. Persons at the scene prevented him from doing so and police found him a short time later. He received a pre-charge warning and was trespassed from the property.
A 46 year old Waihi male was arrested pursuant to a warrant to arrest for cutting off his electronic ankle bracelet and absconding from his home detention address in Hamilton. Police found the male at a Rata Street property and placed him in custody.
Police attended a two vehicle injury traffic crash involving a motorcyclist versus a car at the intersection of Rosemont Road and Kenny Street. The motorcyclist was at fault having failed to give way to the car. He sustained minor injuries.
Thursday 17 January 
Police seized 13 x Cannabis plants near a rest area at SH2 Athenree Gorge.
Police attended a family harm incident at a Grey Street address. A 42 year old male was served with a police safety order and removed from the address. A welfare check of the victim later in the evening revealed that the male had returned to the address in breach of the order. He was arrested and held in custody at Hamilton for Court the following day.
Waihi Police assisted Whangamata Police at a traffic incident on Tairua Road SH25. An intoxicated driver lost control of his vehicle and drove off the highway and crashed into two parked vehicles at Moana Rest Home. The vehicle carried on through the vehicles and was finally stopped when it crashed into a large tree. The driver was hospitalised and blood test procedures were carried out. Police are awaiting the test results.
Friday 18 January 
Police executed a search warrant at a Consols Street address in relation to a criminal harassment and burglary investigation. Evidence was located and seized. A 77 year old Waihi male was arrested and charged with criminal harassment and common assault. Further charges may follow in relation to the burglary which is still under investigation.
At about 11 pm Tandoori Chambers Restaurant at Haszard Street was burgled again shortly after closing. The offenders activated the alarm and were caught on CCTV camera. They attempted to steal cash from the register however provisions had been made by the owners since their last burglary and they were unsuccessful. The offenders did steal a minor amount of alcohol, however. Police are investigating.
Police attended two residential burglary reports, one at Walmsley Road and another at Tauranga Road. A handbag was taken from the first burglary and a set of keys from the second. In one case the offender gained entry by reaching up and unlocking the door from the cat flap.
Saturday 19 January 
Police arrested a 26 year old Mt Maunganui male in relation to a historic burglary at a Hillview Road, Waihi Beach address over the holiday period. The male will be appearing in Court soon.
Sunday 20 January 
Police attended two burglaries at Shaw Road residential addresses. In one case an offender was disturbed inside the kitchen and fled from the scene. In both cases, the offender has gained access by reaching through a cat flap and unlocking the door from the inside. The offender was prevented from accessing the second scene due to a security chain stay on the door. The offenders are described as being in their late teens and driving an older silver coloured four door sedan. Police are seeking information from the community.
Monday 21 January 
A 24 year old Waihi male was arrested and charged with serious assault and threatening to kill against a female victim in relation to a historic family harm incident which occurred in Hamilton. He was held in police custody and appeared in Court on the same day.
Police Crime Prevention Advice for the week: 
More burglaries plague the Waihi area this week. Same advice as last week, lock up always! If you have a cat flap, get chain stays installed and a dead bolt lock requiring a key to open it from the inside as well as out. Don't forget to remove the key from the door. Always report all suspicious behaviour to police 111 immediately, not days later. See something, do something, do not ignore crime occurring because next time the victim could be you, a family member or a friend! Police need your information, let us know what's going on.
Waihi Police are interested in any information relating to crime. For non-urgent matters or enquiries contact Police 24/7 on 0800 780 101 (ask for the Crime Reporting Line) or to remain anonymous call Crimestoppers 0800 555 111.
The Waihi Police Station public counter will be generally closed over the next few weeks while we hire a replacement station support officer. Although police officers are available 24/7 and we can come to you or meet at the station. For urgent matters call 111 and ask for police.