Gold FM Police File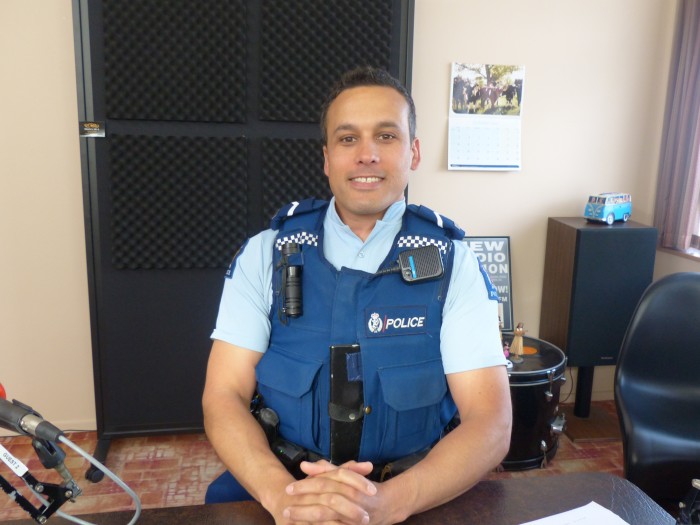 Senior Community Constable Harley North updated the Police File this week. 
Police are concerned about the increase in local burglaries. Please keep your eyes and ears open and report suspicious activities to police immediately. A pedestrian who was nearly hit by a black Isuzu on Consols Street and witnesses are asked to contact police. Listen to our interview with Harley to hear full details about the summarised incidents below.
Monday 12 August 
Report of a burglary at Mackay Street. A shed was broken into and tools and a sleeping were stolen. Police are investigating and seeking information from the community.
A Seaforth Road holiday home was discovered burgled for the second time this month. Tradesman discovered the burglary when they arrived to make repairs caused by the first one. Police are awaiting forensic results.
A Waihi male was arrested for trespass at New World supermarket after returning to the premises having earlier been caught shoplifting.
Tuesday 13 August 
Reports of two residential burglaries. A property at Silverton Road and another at Boyd Road. Both properties were entered. The Silverton Road property had a credit card and handbag stolen. Police are awaiting forensic results for both investigations.
At about 4pm a black coloured Isuzu MU four wheel drive motor vehicle was involved in a dangerous driving incident at Consols Street. A pedestrian was nearly hit by the vehicle. Police have been unable to identify the pedestrian and would like them to make contact with police to assist the investigation along with anyone else that may have witnessed the vehicle driving dangerously around Waihi. The driver has been identified and charged however further witnesses are sought.
A Pukekohe male was arrested after a traffic stop at Waihi Beach. The male was sought by police in relation to a burglary investigation. He was charged with driving whilst disqualified and his vehicle was impounded. He will be appearing in Court soon.
Wednesday 14 August 
A Katikati male was arrested at Waitawheta Road after a traffic stop when he was caught speeding. Checks revealed he had two warrants to arrest and was a disqualified driver. His vehicle was impounded and he was held in custody overnight in Hamilton for Court the following day.
Report of a historic burglary at a residential Queen Street address. An electronic storage device was stolen. The burglary occurred between June and mid-August.
A Hamilton male was caught on CCTV camera shoplifting from Waihi Paper Plus/Toy World. The male is a regular police customer so was quickly identified and is now sought for arrest. His police cell will be given a spring clean in preparation for his check-in.
Thursday 15 August 
Report of an attempted historic burglary at a residential Consols Street address. It appear a door lock has been forced unsuccessfully. No property was stolen.
A Paeroa male was arrested and charged for a historic assault with a weapon after attacking another male with a hammer at a Savage Road address. He will be appearing in Court soon.
Friday 16 August 
A Waihi male made multiple star appearances on CCTV cameras at Waihi and Waihi Beach businesses using a stolen debit card. He was quickly identified by local police due to his 'frequent flyer' status. He is still outstanding and police would also like him to check-in at Waihi Police Station to redeem his arrest points.
An attempt was made to force entry at Waihi Veterinary Services Kenny Street. The offender was unsuccessful at gaining entry and nothing was stolen. Police are seeking information from the community.
Saturday 17 August 
Reports of two residential burglaries at Barry Road. One was an attempt and was unsuccessful. One property was entered and property was stolen including a wallet and cell phone. A Waihi male was arrested at Haszard Street, Waihi for possession of a drug utensil after he was searched in relation to recent burglaries. He will be appearing in Court soon.
Crime Prevention Advice 
Burglary continues to plague Waihi. Sadly we're not alone and burglary is a nation-wide issue affecting all towns. You can help police catch burglars by reporting all suspicious behaviour (at the time). If a person or vehicle is lurking around or they look out of place, call police 111 immediately. As always lock up your house and vehicles when unattended and put all valuables out of sight or lock them away. If you've had a guts full of burglaries in our town, form a neighbourhood support group and join the local community patrol.
Road Safety Message 
RIDS = Restraints, Impairment, Distraction, Speed. 
Police love acronyms and come up with them for just about everything we do. These four really get cops excited! So remember to always where your seat belt, buckle up the kids, don't drink and drive, stay off your mobile phone and slow down. Failure to do these will likely reward you with an empty pocket and in some cases a front row seat at Court.
Police contacts 
If it's already happened call 105. If it's happening now call 111. For traffic matters call *555 (mobile phone only). To remain anonymous call Crimestoppers 0800 555 111.
Click our podcast link to listen to the full Police File interview with Senior Community Constable Harley North.