Gold FM Police File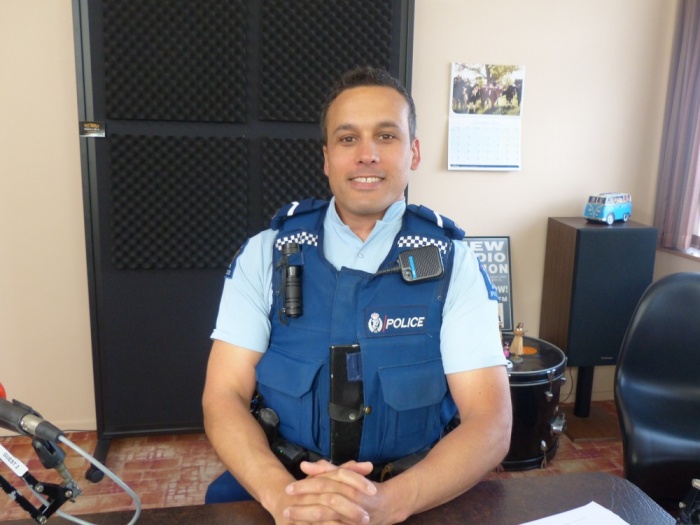 Community Constable Harley North updated the Gold FM Police File this week.
Drones have been a hot topic in Waihi lately. Many locals have complained about drones flying over their property and compromising their privacy. Constable North had first hand experience with a drone when he came out of the police station and saw a drone hovering above his head at the police station. Police were able to track the drone back to the operator who has been causing a few problems lately. They are working with the Civil Aviation Authority to progress a prosecution.
Tuesday, November 28:
Police were called to a trespass job at Athenree Road. A property owner thought a trespass order had been served on a former tenant. While the police were on the property they checked the person refusing to leave and found him to be in breach of bail conditions. The male was arrested, held in police custody and brought before the court in Hamilton.
Thursday, November 30:
Police were called to attend an unusual incident where a scrap dealer dropped a car involved in a civil dispute in a ditch in Clarke Street. Police decided the car wasn't a hazard and left it for the parties involved to resolve.
A property at Beach Road was burgled on Thursday, November 30. Entry was forced and a large amount of property was stolen. Police received some good information and a search warrant was conducted the following day which resulted in the recovery of a significant amount of property and an arrest.
The driver of a car doing donuts on Waihi Beach had his car impounded and was arrested and fined. His car ended up getting stuck in sand and was being pulled out as police arrived at the scene. Community Constable North explained the rules related to vehicles on the beach. He also said there were groups of people, including children on the beach and the driver did everything wrong.
A crash occurred on SH2 near Waimata School and Harley North reminded drivers to watch their speed in the area.
Friday December 1:
A suspicious car in Athenree was reported to police. The occupants were door knocking in the area trying to sell manure off the back of a trailer. When police investigated they found all three men were wanted by police in relation to stealing trailers from properties between Katikati and Tauranga. The men were arrested and will be heading to court.
Brian Gentil and Constable North discussed suspicious people on properties. Look out for these people, including those wearing high viz jackets trying to look official as they can be scoping out your property. The advice is – ask for ID.
A successful search warrant in relation to a Waihi Beach Road burglary resulted in a 17 year old and 15 year old who have recently moved into the area being apprehended and questioned. One of the offenders admitted to visiting properties door knocking and making up a bogus name of someone he was looking for until he came across an empty property which was targeted.
Saturday December 2:
A driver tried to evade police but police looked for and found the vehicle tucked down a side street. The male driver failed a breath test and was found to be a disqualified driver with a warrant out for his arrest. He was arrested and his vehicle was seized and impounded.
Crate Day caused a few problems with young people in the Waihi Beach area not being able to handle drinking larger bottles.
Some drivers known to police for driving dodgy, illegal cars and being disqualified drivers were stopped and issued with infringement notices. A couple of Head Hunters gang members were also stopped in Karangahake Gorge. One was served with a demerit point notice.
Sunday December 3:
A crash occurred on Waihi Beach Road. Speed was a contributing factor. Three people ended up in Tauranga Hospital.
A driver was issued with an infringement notice for speeding on Gladstone Road.
Constable North reminded people police will be out in force over the summer period targeting drink drivers. The traffic alcohol group will be brought in and drink drivers will be caught.
Waihi Police are interested in any information relating to crime. For non-urgent matters contact Police 24/7 on 0800 780 101 (ask for the Crime Reporting Line) or to remain anonymous call Crimestoppers 0800 555 111, or visit the Waihi Police Station during public counter open hours Monday to Friday 8:30 am to 3 pm. For urgent matters call 111 and ask for police.