Government funding tops off Kaiaua leg of Hauraki Rail Trail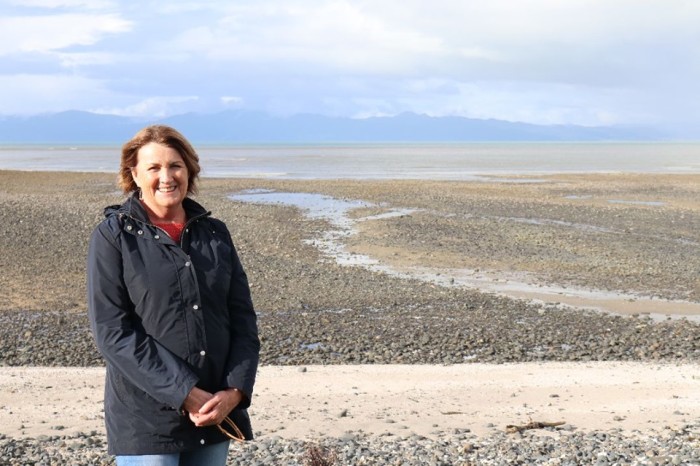 Visitors to Kaiaua will have a top spot to stretch their legs, skip some stones, and munch on their lunch, thanks to a government contribution announced at the weekend.
The council has received $80,000 towards a car parking and freedom camping area at Kaiaua from the latest round of the MBIE Tourism Infrastructure Fund, which is designed to help local councils meet public infrastructure needs where visitor growth is placing pressure on existing facilities.
Plains Ward Chair Gill Leonard, who has decided not to stand for council this October, is delighted with the news and says the money will be used to create a destination, not just a toilet-stop, at the Kaiaua end of the new 10km Hauraki Rail Trail extension between the township and Pūkorokoro/Miranda.
"Our vision is that this will be a spot people set out to visit, not just somewhere they stumble across because the kids are busting in the back seat and they need a place to stop," she said.
"The Kaiaua coastline offers stunning views and this is a great opportunity to showcase the area."
Plans for the place include day and overnight parking areas with natural landscaping, as well as picnic areas, toilets and safety bollards. An upgrade to the adjacent Pirate ship play ground is also on the to-do list a bit further down the track.
"We've used a robust, adaptable design for the parking area to help withstand any possible effects from the sea, which includes using shell, and planting pohutukawa trees for landscaping because they're already part of the natural environment," Councillor Leonard said.
"We've also been mindful to retain the natural character of the area."
The project also has the support of the NZ Motor Caravan Association which is contributing $10,000.
Plans to build the 10km stretch of Hauraki Rail Trail from Kaiaua township to Pūkorokoro Miranda were rolled out to the community at a drop-in session in Kaiaua in May, where proposed designs for the car parking and freedom camping area at the head of the Trail were also on display.
Councillor Leonard said the session was well attended, and further feedback has also been received via the council website and email.
"Thanks to everyone who shared their thoughts and ideas. We've heard that you're keen to keep the Trail on the seaward side of the road north of the County Bridge, so we've taken that on board and updated our plans accordingly."
Construction of the Trail itself is due to begin at the end of July, depending on the weather, with work on the car parking and freedom camping area following towards the end of the year. Councillor Leonard is excited about the new opportunities the project will open up for business on the Kaiaua Coast.
"Overall, the Rail Trail has provided a huge boost for the district and the Kaiaua to Kopu leg is quite unique. It provides some great natural attractions that can only be seen from the cycleway such as rare migratory shorebirds, wetlands, and shell banks, and it's also within easy reach of Auckland cyclists."
Photo: Plains Ward Chair Gill Leonard