Harcourts Gold Star Real Estate proudly supports their community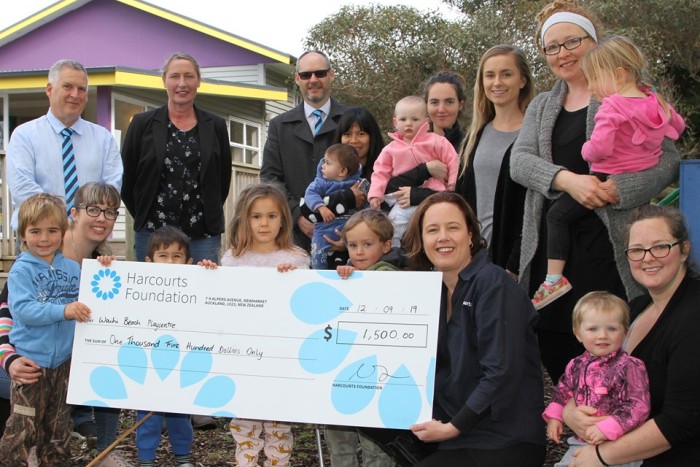 Brian Gentil had Greg Sheppard, General Manager of Harcourts Gold Star Real Estate, in the studio for a catch up. Harcourts Gold Star Real Estate has just started a new promotion for people listing with them where you can get a spring clean, a drone overview or 3 and 4D drawings of your property as part of the package.
Greg also mentioned they had been busy with a grant to Waihi Beach Play Centre yesterday from their Harcourts Foundation, with more money going to Ngatea Primary School today for their sand play unit.
"Harcourts Gold Star Real Estate is proud to support the Waihi Beach Playcentre with a donation of $1,500.00 through the Harcourts Foundation," Greg said.
The money donated by the Harcourts Foundation will go towards purchasing much needed bark for their outside playground.
The Waihi Beach Playcentre on Beach Road is a fun, relaxed play environment for children aged 0-6 and their whanau. The purpose of the organisation is to enrich communities by strengthening parent engagement and recognising parents and whanau as the first and best educators of children.
In August 2008, Harcourts asked one simple question: "How can we better support the local communities that have supported us?" This one question led to the establishment of The Harcourts Foundation.
The Harcourts Foundation has raised over $6 million, has assisted hundreds of charitable organisations throughout Australia, New Zealand, South Africa and the USA, and has helped literally thousands of people in need.
Harcourts Gold Star Real Estate is also supporting the Sustainable Blue Backyard day at Waihi Beach on Sunday 22 September, by the surf club at the north end. There's lots for the family to do like the Sand Sculpture Competition and Treasure Dig, along with giveaways, prizes and music too.
Harcourts are proud sponsors of Gold FM's Rugby Report, and Greg is a keen rugby man himself, so they talked a bit about the World Cup and the All Blacks prospects too.
Listen to the interview by clicking on our podcast link ...