Matariki Waihi Wrap Up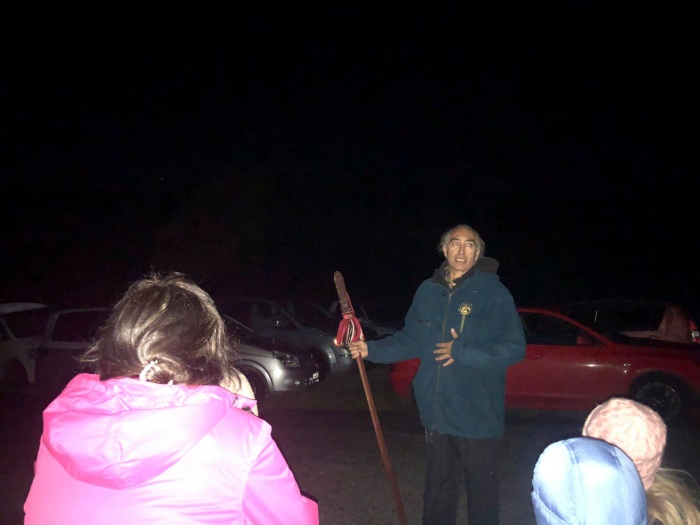 Rachael Coll is one of the organisers of the Matariki Waihi celebrations. Here's her wrap up of this year's events.
As each year passes and the Waihi community Matariki celebrations continue to flourish and strengthen, we see our tamariki (children) naturally embracing Te Ao Māori; welcoming the Māori New Year with much aroha and enthusiasm, and a growing understanding of this significant time of year for Māori, and us all. 
As well as welcoming the Māori New Year, the community Hikoi, Community Celebration and Dawn Viewing celebrates family and community - whānau tangata. It provides our children an opportunity to come together with friends, family and community to learn and sing both new and familiar waiata, while proudly celebrating together - kotahitanga. 
In this way, our tamariki become natural and confident teachers of Te Reo Māori to others; parents, siblings and wider family. Te Reo, Māori Language, is at the very heart of our identity as New Zealanders and it's the responsibility of us all to keep it a celebrated and living language we're all proud to know and speak. The events are full of authentic learning for us all. 
It is awesome to see tamariki participating in Matariki Waihi events with their whānau, immersed in the experience of their community coming together for a shared purpose and celebration.
Here's some history to Matariki Waihi too-
Matariki Waihi follows a whakatauki (proverb) gifted to us by the late Matua Chic Waitai, 
'Ma te mohio, ka hua ko te maramatanga'. Only from the gaining of knowledge can there be understanding. 
Our humble beginnings in 2011 included 14 students from all of our kura who worked together to design events and promote Matariki Waihi in its first year. Each year our town has gone from strength to strength, in terms of events, numbers of participants, numbers of audiences, high levels of community engagement and commitment for Matariki Waihi to showcase Maori culture in our place. 
There have been many people, agencies, ECEs and schools who have helped to ensure we keep our Matariki events and kaupapa alive and well in Waihi. All of our amazing kura (schools and early childhood centres) have been part of the journey which continues to support and promote Te Ao Maori in a mainstream setting within our community. 
The pride, smiles, tears of pure joy that our tamariki (children), whanau (families) and kaiako (teachers/staff) share whilst taking part in our many Matariki Waihi events is the reward and motivation to continue this amazing celebration for all of our community. 
Now with over 1000 participants in the Hikoi (march), 18 teams in the Tapuwae Tournament, 100+ attendees at the Dawn Viewing and Powhiri, over 400 children on stage at the community celebration, and over 500 people in the audience, we can definitely say that we are making a difference in our community for the benefit of our bicultural heritage and pride of being a New Zealander. 
Matariki Waihi could not be successful without all of our teachers, staff, children and parents who put the time, energy, effort and mahi (work) in! There have been many times over the past 8 years where particular people have stepped up to follow through and needed the extra hands on deck, our community educators and members are amazing! They prioritise this every year which enhances our Matariki events and are a credit to us all! 
In particular, Whaea Whetu Watene has worked tirelessly in the background to ensure we sustain and strengthen Matariki Waihi in ways that bring our community together. 
Can I also make special mention to these people, agencies and funders who have and continue to support Matariki Waihi -
Matua Tim Ainsley, Waihi Lions Club, GoWaihi, Gold FM, Oceana Gold, Waihi Ward of Hauraki District Council, Project Energize.