Message in a bottle delivered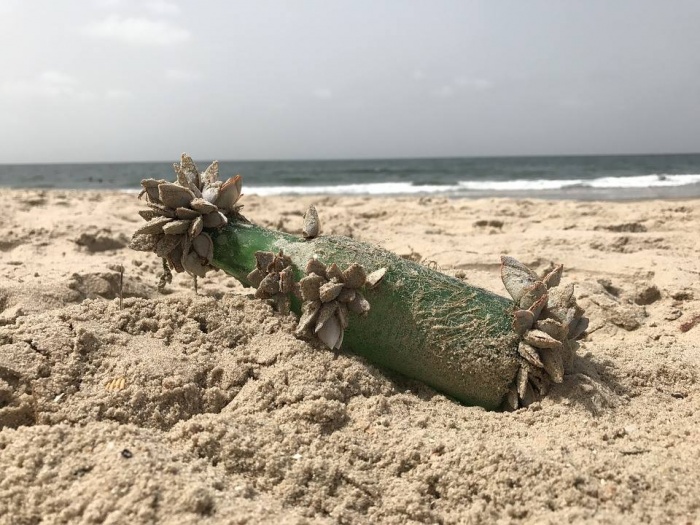 A message in a bottle cast into the ocean by Chief Officer Kevin McKernan in 2001 has been replied to all these years later.
The message in a bottle washed ashore at Bellows Beach, which is located at a small town called Waimanalo on the island of Oahu in the US state of Hawaii.
Brian Gentil from GO Waihi received an email from Lorna David who said her family was camping at Bellows Beach and her children were body surfing and boogie boarding when her son noticed a bottle bobbing in the water. The bottle looked like an old wine bottle, green in colour and appeared to have been in the water for some time as it was covered with barnacles. 
Lorna said her son was very excited when he realised there was a "message" inside. She said she couldn't recall exactly when the bottle floated to them but believed it was 2003 or 2005.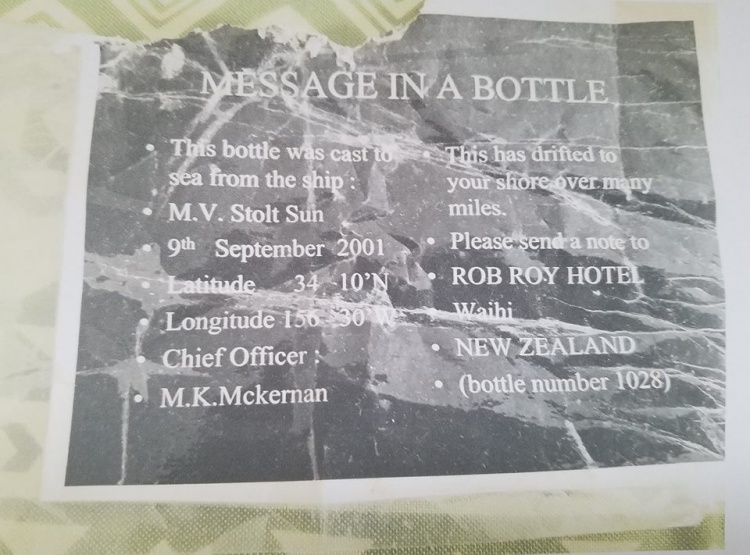 She had planned to reply to the message but the return address seemed incomplete in comparison to US addresses and then the message was misplaced. The bottle was kept for some time but had been lost when amazingly Lorna found the message recently and decided to respond via the web.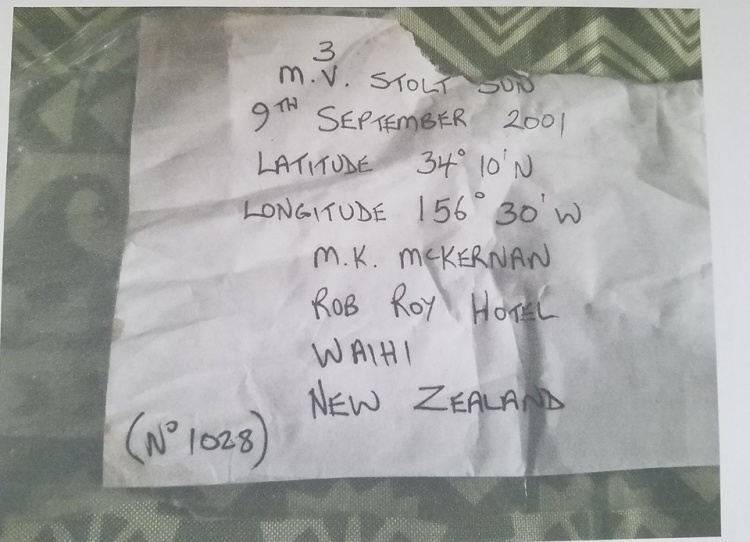 When Brian Gentil received Lorna's email he knew exactly who to contact as this was the second time he knew of a message in a bottle finder looking for a person from Waihi who had cast a bottle into the sea from a ship.
Kenta Goto found a message in a bottle washed ashore on a deserted beach on the small, uninhabited island of Uchipanari in Okinawa, Japan in July 2002. 
Kenta had been camping with university friends and "went behind a rock to pee", and found a wine bottle. "Inside that deep green bottle I can see some letters", Kenta said to media in New Zealand in 2010 when he appeared in Waihi, with TV cameras in tow, to return the message to its sender. 
The message was sent from the ship MV Stolt Sun on September 1, 2001, by Kevin McKernan and the address was Rob Roy Hotel, Waihi. 
Kevin McKernan had bought the Rob Roy Hotel in 2009 after 29 years in the Merchant Navy. He'd started to cast bottles overboard after he read about a Queensland tourist who found a message from an American serviceman to his girlfriend that had been written 40 years earlier. 
Kevin was delighted to meet Kenta and showed him letters he had received from others who had found his messages from as far away as Miami, East Port, Bahamas, Morocco and the Philippines.
Kevin could have another of his messages in a bottle back soon as Lorna David has offered to send the note Kevin tossed overboard from the M V Stolt Sun on September 9, 2001 (just 8 days after he released the bottle that washed up in Japan) to New Zealand.
Listen in to our podcast below to hear Kevin McKernan's reaction to his message in a bottle being replied to all these years later.
Photos: Lorna David's photographs of both sides of the message in a bottle her son discovered bobbing in the water at Bellows Beach, Waimanalo, Oahu, Hawaii.