Mine staff celebrate 30 years of gold pours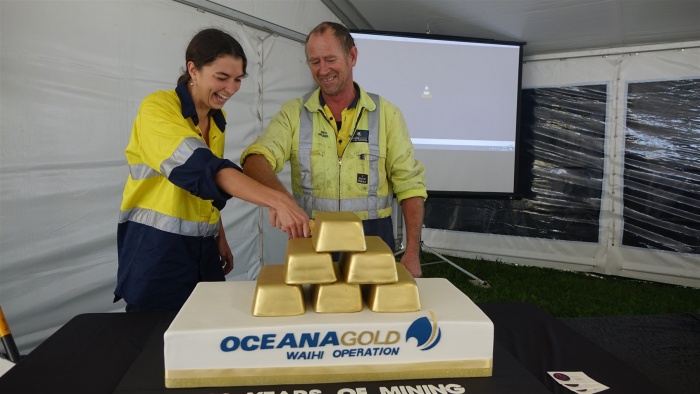 The first gold pour from the modern Martha Mine took place on 16 May 1988. 
Exactly 30 years later, staff and permanent contractors gathered for a spit roast meal to celebrate this event. 
Work stopped across the site while staff gathered in a marquee to listen to a short speech from General Manager Bernie O'Leary and watch a video which showed images form the last thirty years. 
At the conclusion of the event, those present were each presented with a gold and silver coin to mark the production of three million ounces of gold. This milestone was achieved earlier this year. 
A special 'gold bar' cake was cut by Cassie Craig, one of the most recent employees to join the company, and Rex Gilbert who has been at the mine for 30 years. 
The night shift repeated these events that evening before heading to work.
The Waihi community has not been forgotten. A giant fireworks display is currently being planned to take place over the Martha open pit on the evening of Friday 8 June. 
Members of the public will be able to purchase food and drink in the area around the Cornish Pumphouse at the top of Seddon Street before watching the display which is set for 7.00 pm. 
If the display is postponed due to rain or high wind it will be reschedule for the same time on Saturday 9 June. 
Organisers say you won't need to be at the Pumphouse to see the display which should be visible from all around Waihi, but the best view will be around the pit rim.