Paeroa Society of Arts presents...The Erritja Exhibition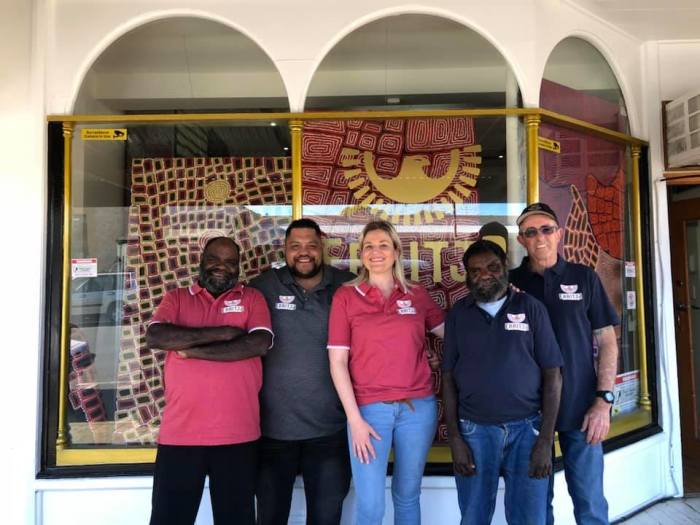 An exciting aboriginal art exhibition starts in Paeroa this weekend.
Paeroa Society of Arts was approached by Erritja Art Gallery, Moonta South Australia, to bring two artists of the Pintupi Nine to New Zealand for an exhibition of theirs and works by other Aboriginal artists from Alice Springs & South Australia.
Today, Brian Gentil spoke to Lawrence Renata, who is living in Alice Springs and helping to take care of the needs of the artists while they are here.
Thomas and Walala Tjapaltjarri arrived in Auckland with Lawrence on Wednesday and have been acclimatising to a very different climate and culture. This will be the first time that Thomas & Walala have left Australia and will touch soil of another country. They are also the first people without birth certificates to be granted a passport by the Australian government.
The Pintupi Nine, as their family group have become known were referred to in the international press, as the 'Lost Nomads'. They were reunited with their extended family at Kiwirrkurra in October 1984.
Both Thomas & Walala will be demonstrating their art at the Paeroa Society of Arts gallery, 109 Normanby Road, Paeroa from approx. 11am - 4pm, tomorrow - Saturday 7th – Monday 9th September.
It will be an historic occasion for those visiting the Erritja Exhibition; to see Thomas and Walala working on their art is something not to be missed.
The exhibition is on from Saturday 7th September – Saturday 21st September inclusive, at the Paeroa Society of Arts Gallery hours 11am – 4pm daily.
Click our podcast link to hear the interview with Lawrence Renata.
Photo credit: Erritja Gallery - Lawrence Renata, second from left.