Post storm clean up continues
Thames Coromandel District Council is examining all their infrastructure and Council assets to see what needs to be fixed and what's safe to use. They say, as a general rule, if you see hazard tape, cones or signs indicating a danger please respect that and stay clear.
They haven't been able to inspect everything yet, so beware of trip hazards and if you see any issues please report them to us as a Request for Service - by phone: 07 868 0200 or email: [email protected]
Damaged but accessible:
Shortland Wharf in Thames: badly damaged. A large part of the wharf has been fenced off and signs are up to warn people of the hazards. The café and fishmongers are open and accessible and parking is available.
All other wharfs and jetties have had their initial inspections and are open to the public. Further detailed assessments will be taking place to ensure the structural integrity of the assets and public safety.
Boat ramps: Te Puru, Ruamahunga Bay and Tararu Sailing Club are reasonably clear of storm debris and functional. Waikawau is functional. Waiomu and Tararu North boat ramps should be clear by Thursday. TCDC has  not been able to assess Kereta yet.
Thanks to some speedy work by the Amodeo Bay community, including staff and guests of Anglers Lodge, the boat ramp there and the access road have been cleared and damage patched. The boat ramp is accessible again.
Picnic tables, benches, BBQs, boardwalks and access stairways in some seaside reserves in Thames and on the Thames Coast have also been damaged. Use common sense and be careful.
TCDC is also still collecting flood-damaged goods from properties until Monday 15 January. If there is no skip bin nearby your property, leave it next to the kerb and it will be collected. Keep damaged whiteware apart from other items because it will be collected separately.
If you live on the Thames Coast Road and you think access for a removal truck will be difficult, leave your flood-damaged items on the kerbside and the contractor collecting the items will arrange access with the NZTA contractors working on the road.
The Thames Refuse Transfer Station (RTS) at 102 Burke St will also accept flood-damaged items free of charge. 
TCDC building inspectors have visited 150 properties in the storm-affected areas.
• 1 is uninhabitable
• 9 have moderate damage
• 140 have light or no damage
EQC cover
Some people may be eligible to launch a claim with EQC as well as their private insurer.
• If you have flood damage to the land around your home, including retaining walls that support the land (not walls that are landscape features only) then contact EQC. EQC does not cover flood damage to your house or its contents.
• To get EQC cover, you need to have a home or contents insurance policy that includes fire protection with a private insurance company when the natural disaster damage occurred.
Although the Thames Coast Road cordon has been lifted it is not suitable for heavy vehicles over five tonnes, NZTA says, and they are prohibited between Te Puru and Manaia.
The alternative route using SH25A (Kopu-Hikuai Rd) and SH25 via Tairua is available for heavy vehicles while NZTA contractors repair the Coast Rd.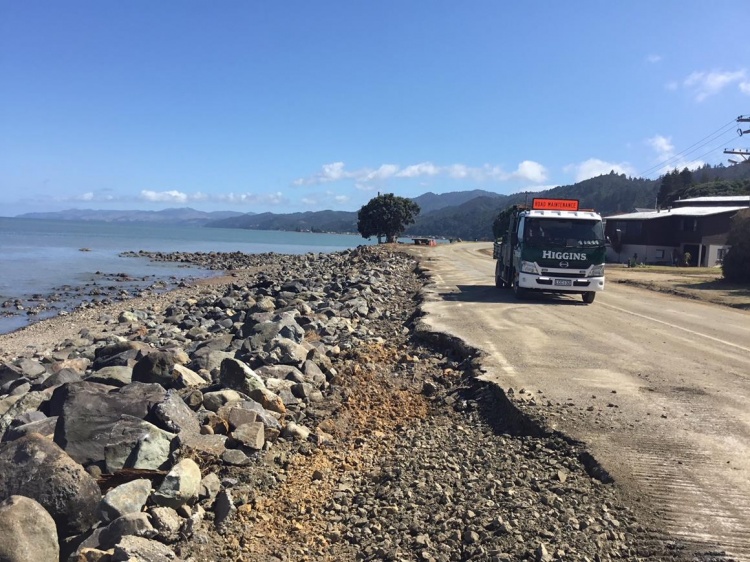 The Coast Rd will be a work site for some time to come and motorists are asked to take extra care and to expect delays due to stop-go control and speed restrictions in a number of locations between Thames and Manaia.
Photos: Sugar Loaf Wharf at high tide January 05
The Thames Coast Road