Salute the Anzac Animals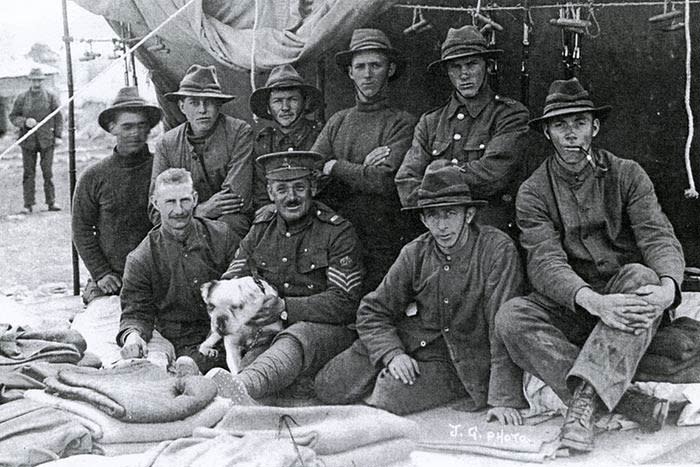 As New Zealand and Australia remember the men and women killed in war, and honour returned servicemen and women, we're also saluting animals for their role serving alongside Anzacs.
Most people are unaware that as well as the traditional commemorative red poppy, there are also white and purple. The purple poppy symbolises all animals that have died during conflict.
It is estimated that more than 8 million animals sacrificed their lives in World War I alone.
Horses had a pivotal role transporting troops and hauling supplies, equipment and ammunition. In World War 1, 10 million men died and so did 8 million military horses. 
More than 136,000 were sent to war with Australian troops and over 10,000 horses were sent overseas with the New Zealand Expeditionary Force in World War 1. Sadly, only one - Sandy, returned home to Australia and just four made it home to New Zealand. The rest died from disease or injury, were killed or sold at war's end.
Dogs served many roles during the First World War. These loyal animals served as mascots, provided companionship and helped boost morale. Dogs could cover ground on almost any terrain and were dependable message carriers, faster than any human runner, and more discreet. They were also used as guards and sentries and for scouting missions. Their keen sense of smell warned of possible enemy approaches and they could sniff out hidden enemies Some dogs were used as pack animals to pull guns along on carts and carried machine guns and ammunition. Dogs also played a huge part in search and rescue, and this is what a New Zealand bulldog called Caesar was trained for.
The story of Caesar, the bulldog mascot of 'A' company, 4th Battalion, New Zealand Rifle Brigade, lives proud in New Zealand's history. Read Caesar's story …
http://www.aucklandmuseum.com/…/featur…/caesar-the-anzac-dog
Carrier pigeons proved essential as a means of passing messages, which were written on tiny pieces of paper and strapped to their legs. Their success in reaching their destinations saved thousands of lives and made them the first animals to receive war medals.
Many Australian soldiers took kangaroos with them and several were given to the Cairo Zoo when the units left Mena Camp to go to Gallipoli.
All sorts of animals, including goats, cats and even roosters were used as mascots and provided companionship and comfort.
One group of Australian soldiers adopted a rooster chick in Egypt, named him Jack and found him to be a better guard than any dog as he attacked any stranger who approached their lines.
Troops of the New Zealand Tunnelling Company near Arras, France had a cat mascot in 1916 called Snowy. Glow worms were even used as a light source in the tunnels of Arras in World War 1.
Canaries were also on duty detecting poisonous gases in the trenches and tunnels, much like they were used in mines.
To commemorate the animals that have served and those that continue to, a purple poppy can be worn together with the traditional red poppy. The New Zealand Army Museum hopes to use the 24th of February as an annual Purple Poppy Day, in order for the animals to have a commemorative day.
As we commemorate our brave Anzacs on April 25, which marks the anniversary of the landing of New Zealand and Australian soldiers on the Gallipoli Peninsula in 1915, let's also remember the brave animals, their deeds, and their sacrifices.
Lest We Forget.