'Songs for the Mountain' Revisited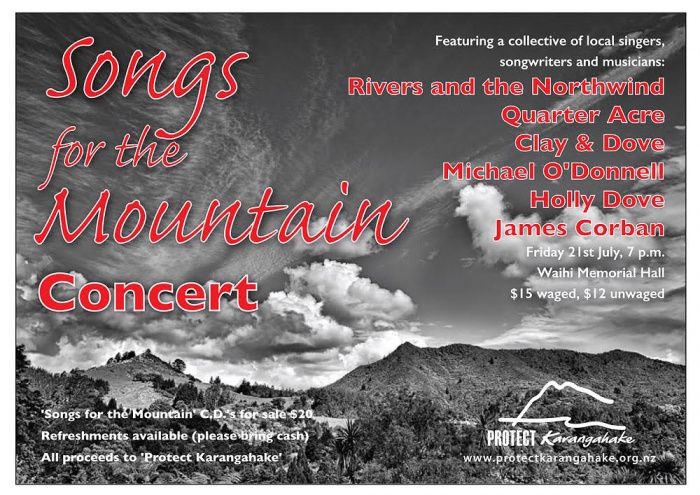 A 'Songs for the Mountain' concert is happening in Waihi this Friday night, as local Coromandel musicians share nature inspired originals and loved classics that make the call to protect Karangahake Mountain from mining.
In 2015 a CD 'Songs for the Mountain' was released in association with Protect Karangahake as a creative response to a non notified resource consent that was granted to New Talisman Mining Company for bulk sampling in the heart of conservation land on Mount Karangahake. A series of six concerts followed around the Coromandel and in Auckland.
In June this year New Talisman was given DoC consent to close off an area of conservation land to the public and the company has begun work setting up their infrastructure for mining.
Musician and Protect Karangahake member Beccy Dove says, "We are holding another concert because we want people to know that this is happening here and now and if we don't do something to stop it at this stage then when will we?".
The concert will feature an eclectic group of local musicians 'Rivers and the Northwind' artist Nina Mayhara, launching her catchy new single 'Piece of Paper'; Songwriter and singer Holly Dove fresh back from playing contemporary folk gigs in the UK; Clay and Dove, who specialise in harmonies that will lift your soul; Waihi duo Quarter Acre, playing funky and fun originals; Solo artists James Corban and Michael O'Donnell playing powerful songs written specially for the mountain.
The fundraising concert will be held on Friday the 21st of July, at 7.00 pm in the Waihi Memorial Hall. Refreshments will be available and tickets will be for sale at the door.