Thames land purchase creates potential for future sports hub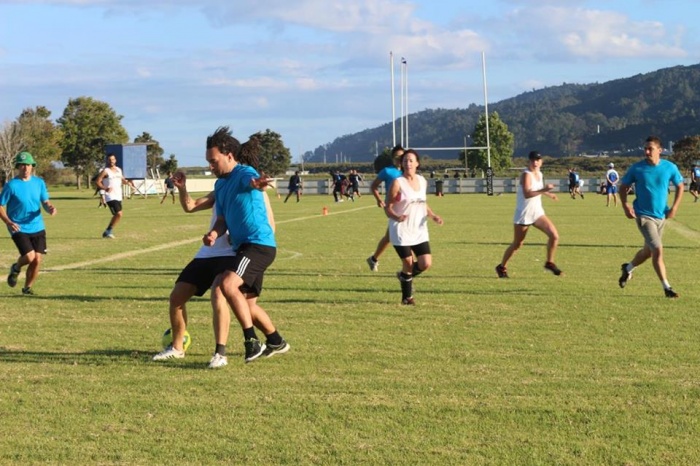 The purchase of a block of land in Totara adjoining Council-owned land south of the Sir Keith Park Memorial Airfield creates an area big enough for a potential future sports and recreation hub, Thames Coromandel District Council says.
The land was bought for $1.04 million. An existing house on the property and a small area of land around it will be subdivided and sold in the future to offset the overall purchase cost.
The rugby grandstand at Rhodes Park is due for replacement and there is budget within the 2018-2028 Long Term Plan to do this. As Rhodes Park is in the path of the Kauaeranga River spillway and is subject to flooding from time to time, it makes sense to relocate the grandstand and fields in a more protected location.
Other sports facilities, for example netball and football, could be moved in coming years as funding and demand permits.
The Totara site is also being investigated as to its suitability to locate a replacement for the Thames Centennial Pool, which is nearing the end of its usable life. A new location for the replacement pool must be found because Centennial Pool is on the site of a historic urupa/burial ground and our Council is in agreement with iwi that a replacement will not be built at that location.
Combining the already-owned Council land south of the airfield with the 7.68 hectare land purchase provides an area of about 15 hectares. There is enough room for a sport and recreation hub consisting of a swimming pool, clubrooms and grandstand for land-based sports, playing fields and parking.
The site has the advantage of adequate space, good access off Ngati Maru Highway (State Highway 25) and the Hauraki Rail Trail and is highly visible to visitors to the district.
"This is a gateway site that could really help pull in people to Thames," Mayor Sandra Goudie says. "Let's make sure we maximise the site's potential and build in the flexibility to accommodate a range of sports into one hub. This is a big project and it's early days, but we're beginning the conversation with our neighbouring districts and with partner agencies like Sport Waikato to bring in as much external funding as we can."
Council staff and an architect from Architecture HDT have had two rounds of meetings with Rhodes Park sports groups and Centennial Pool users to assess their needs. A third meeting is planned for mid-November with the date to be confirmed. A concept masterplan for the proposed site is being drawn up based on these meetings and should be ready for Councillors to review early next year.
Vaughan de Groen, the Secretary of the Thames Rugby and Sports Club, says the user group sessions have been going well. "They've been pretty good, really interactive sessions," he says. "We're positive about the proposal. There are lots of things to be worked out, but we're behind the proposal."
Consultations with Waikato Regional Council (WRC) about the Totara site and requirements there for flood protection are ongoing. A geotechnical report conducted earlier this year found no major flaws to the airfield south site but noted that the existing stopbanks would need to be raised in order to cope with projected sea level rises over the long term.
The detailed design of the facility would take into consideration the stormwater and floodwater management needed to cope with sea level projections over the 50-60 year lifespan of any sports facility that is built there.
Photo: TCDC - Football action at Rhodes Park, Thames, during the Inter-Council Sports Tournament in 2016.