Tree vandalism incidents discovered across the Coromandel district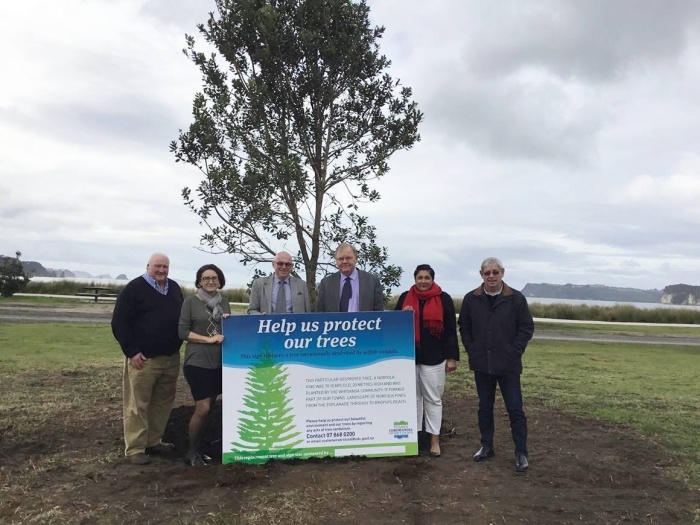 We're into spring, the season of new growth and the Coromandel is starting to blossom. Sadly however, recent cases of tree vandalism in the Thames Coromandel district have put a dampener on the new season for many of their communities.
Eight pohutukawa trees on the Taputapuatea Spit in Whitianga were cut down recently and approximately a dozen pine trees have been vandalised at the Pauanui Estuary near Pleasant Point. These are now dying and will be removed for safety reasons; however TCDC is looking at re-planting in the future. They've also replaced various trees on the harbour front in Tairua as tree poisoning continues there.
"The cutting down of the pohutukawa trees on the Taputapuatea Spit is a sad and senseless act," says Mayor Sandra Goudie. "Our iconic, native pohutukawa trees are under enough stress from factors such as Myrtle Rust as it is, and this is an entirely preventable incident."
Over the years there have been cases where trees that may have grown higher or developed bigger branches over the year are poisoned or vandalised because they're blocking a bit of somebody's view. Cases of tree destruction have been taken to court when enough evidence for prosecution has been gathered and in one case, in 2007, Thames Coromandel District Council was successful in bringing a $70,000 fine against a landowner who removed trees on a reserve for view purposes.
"Our Council takes this sort of vandalism very seriously and we ask the community to be vigilant and support us in preventing this sort of wilful damage to our trees," says Mayor Sandra. "Tell us or contact the police directly if you know anything about this particular event or if you have any concerns about anything similar in the future."
In the Mercury Bay area the local Community Board is getting large signs put up in the place where the pohutukawas were destroyed.
"We often find more incidents happen towards summer, particularly when people come back to their bach to find trees have grown. It's a great shame someone would resort to killing our beautiful native coastal trees on a public reserve that are there for the enjoyment of everybody," says Mayor Sandra.
If you have an issue with a tree come into one of our offices and talk about it. In many cases there may be professional tree management options that might help. An individual may benefit from this vandalism, but the general ratepayer picks up the cost of tree works. That's why Council is keen in all cases of tree vandalism, to recover costs.
Alternatively, contact the TCDC Customer Service team on 07 868 0200 or email [email protected]
Photo: Photo: Mercury Bay Community Board members with new 'Help us to protect our trees' signage. Left to right: Paul Kelly, Deli Connell, Tony Fox, Murray McLean, Rekha Giri-Percival and Bill McLean.