Waihi College invites you to Pink Ribbon High Tea Fundraiser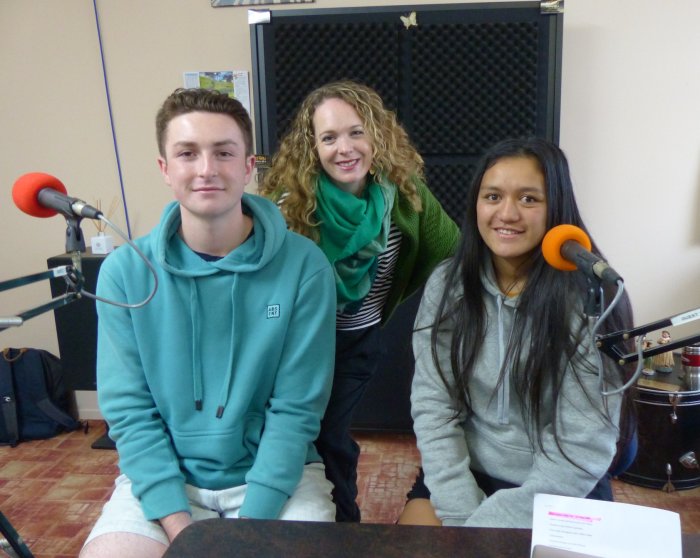 Waihi College students Kane Curtis and Wikitoria Rawiri, both excellent cooks in Mrs Fitzgerald's year 13 hospitality class at Waihi College, called in for a chat with Brian Gentil about their Pink Ribbon High Tea, a breast cancer fundraiser.
The students are hoping to make the Pink Ribbon High Tea a great community event and raise money for a very worthy cause.
Waihi College is proud to invite the community to their Pink Ribbon High Tea on Tuesday 21st May at 12.30 in the College Hall. Mrs Fitzgerald's Super Tuesday class will be preparing, cooking and serving the food consisting of sweet scones with berry jam and cream, raspberry and lemon cupcakes, chocolate meringues with coffee cream, cheesecakes, sundried tomato and feta frittata, smoke salmon blini, rare beef bouches with horseradish cream and pickled beetroot and club sandwiches – all served with sparkling pink punch and lots of smiles.
If you fancy a fancy High Tea please call Sue at the office on 07 863 8349 to purchase your $20.00 ticket. Tickets need to be purchased by the afternoon of Friday 17th May so get in quick!
There will also be a silent auction to raise extra funds. If anyone would like to donate something toward the silent auction, they can get in touch with Siobhan Fitzgerald or Wendy Shave at the college – that would be really appreciated. They can be contacted on 863 8349.
Click our podcast link to listen in to the interview with Kane and Wikitoria.
Photo: Kane, Wendy Shave (Arts Co-ordinator Waihi College and Wikitoria.