Waihi Drama Society presents Curtain Up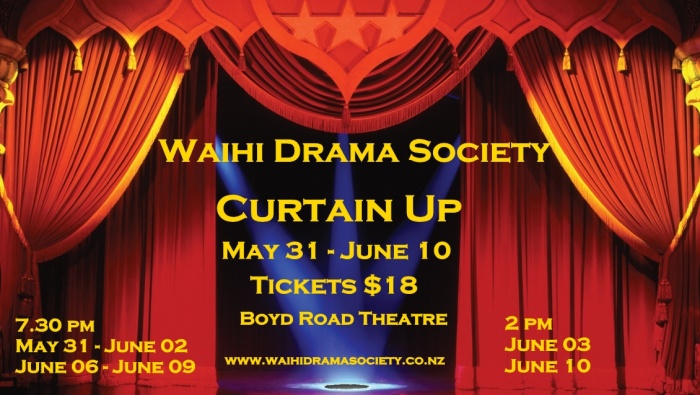 The players in the latest production of the Waihi Drama Society are busy rehearsing to present Curtain Up from Thursday May 31st.
Five ladies with one man in common (the mind boggles) inherit an interesting bequest with strings attached.
The story of how the terms and conditions of the bequest are met will unfold on stage at the Boyd Road Theatre next week.
Sara Single is directing Curtain Up which was written by Peter Quilter.
Sara spoke to Brian Gentil about the laughs and the challenges this latest production brings with it.
Even though the Waihi Drama Society is an amateur group they work very hard to present professional productions thanks to the many talented people working up front of and behind the scenes.
A laugh and a half with tea or coffee, juice and bikkies at intermission makes for a great evening or matinee performance at the Boyd Road Theatre through until Sunday the 10th of June.
Tickets are available now at the iSite and the Waihi Drama Society has made it easy to get your tickets online. Just visit their website www.waihidramasociety.co.nz to book your seats and purchase tickets.
Click play to hear what Sara had to say.