Waihi Rugby Cups Runneth Over!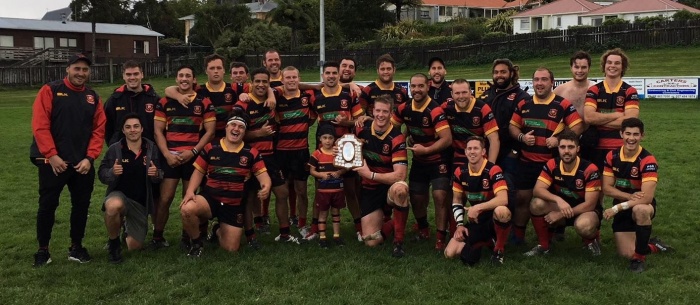 Waihi Athletic Rugby Club celebrated its finest day in many years when both senior sides took out first round honours in their respective Thames Valley senior grades. The Senior A's had already clinched the Silcock shield before Saturdays game, but the B's had to topple second place Thames to take out the Elders Cup.
They did this with an amazing 52-12 score line and in doing so earned promotion to the next round. In front of a large and vocal crowd. Both sides were presented their trophies at the conclusion of their games. The senior B's were always in control of their match. Scoring an early try and racing away to a 31-0 lead by half time. They consolidated their position in the second half, slowly building a big lead and running our deserved winners.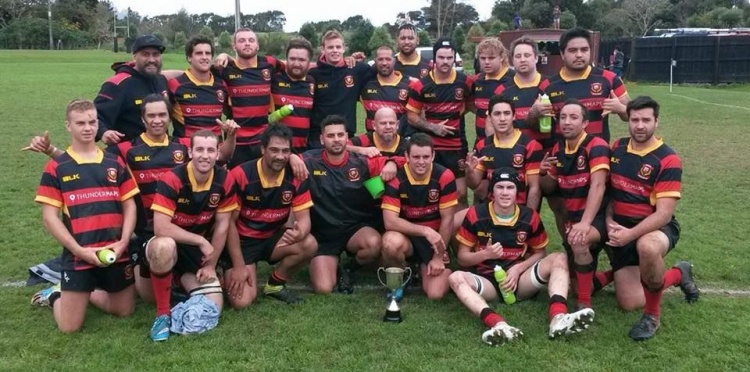 Waihi Senior B's
The Senior A's on the other hand had a disappointing game against the newly formed Paeroa Combined team, losing their first game of the season. As mentioned they had already won the first round trophy and this certainly showed in their lack lustre performance. Paeroa had to win to make the top 6 championship round and were far hungrier from the outset than the home side.
Paeroa's big forward pack dominated their opposites and they scored three of their five tries from set piece moves. Waihi trailed 14-10 at the break and 31-15 with five minutes remaining. To their credit they never gave up, scoring two late tries and closing the score line to 31-25 in Paeroa's favour. 
Jerome Hill had another solid game at fullback scoring two tries, with Jacob Seymour and Brad Wilson also dotting down. Some great rugby lies ahead of us in the coming weeks with both sides keen to carry on their winning ways.
Written and supplied by Graeme Culton 20/05/18
Photos: Waihi A's with Silcock Cup
Waihi B's with Elders Cup