Alien Weaponry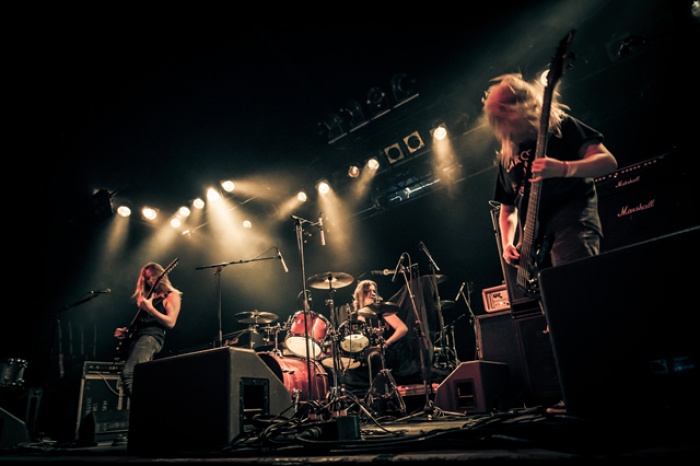 Gold FM is acknowledging NZ Music Month by paying attention to Alien Weaponry and featuring them this month.
Hailing from Northland, Alien Weaponry are a three piece hardcore thrash metal band with an average age of 14 are set to take the New Zealand heavy metal scene by storm.
Fans have dubbed their style 'Te Reo Metal' and compared them to Brazilian metal band Sepultura, who sing many of their songs in their native Portugese. NZ On Air Music Manager Brendan Smyth believes the group are "set to take the heavy metal world by storm."
Record Producer Tom Larkin, who is also the drummer for Shihad, agrees. He contacted the band early last year after he saw some of their YouTube clips, and invited them to open for Shihad at the Powerstation. They have subsequently been working with Tom at Roundhead Studios in Auckland on material for an album. The the NZ on Air funding will enable them to release Ruana Te Whenua as the first single.
"These kids are leagues beyond their years and there is some incredible stuff on the way from them," says Tom. "This is some seriously crushing metal."
"Working with Tom has been really inspirational," says drummer Henry de Jong. "Being in the studio with him on these first couple of tracks for the album has improved how we interact as a group and changed the way I think about drumming, so we can't wait to continue that process."
Last year, Alien Weaponry (Lewis de Jong (13), guitar & lead vocals; Henry de Jong (15), drums; and Ethan Trembath (13), bass) placed second in the National Finals of both the Smokefree Rockquest and the Smokefree Pacifica Beats competitions. They also took out the Youth Performance Trust's Native Reo Award at Pacifica Beats for Ruana Te Whenua. Written entirely in Te Reo Maori, the song combines thrash metal with the elements of haka, and is a tribute to the de Jong brothers' great great great grandfather, who died in the Tauranga conflicts at Gate Pa in 1864 defending his home territory against the British.
Click play to hear the interview with Alien Weaponry
No Flash Player on your phone or tablet? Click here for an alternative.
No Flash Player on your phone or tablet?
Click here for an alternative.