Alien Weaponry Bass Player Taking Time to Complete School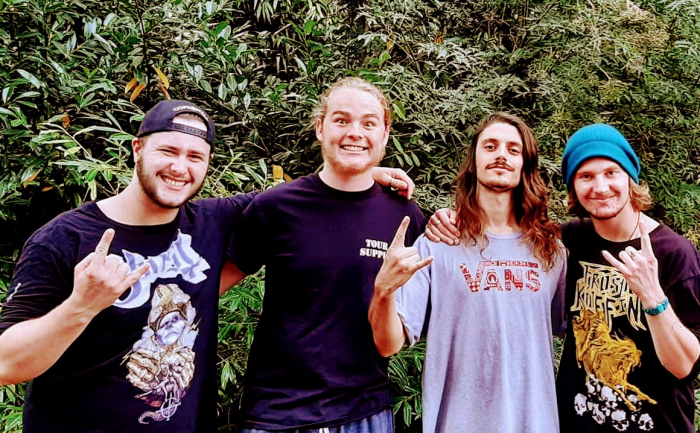 We've followed the rise and rise of the de Jong Brothers and Ethan Trembath, AKA Alien Weaponry, ever since Yetta, the mum of the de Jong boys, first called into Gold FM to tell us about her sons band and their unique brand of music when they entered the Smokefree RockQuest at school and blew everyone away with Te Reo Metal.
Brothers Lewis (guitar and lead vocals) and Henry (drums) de Jong have a connection to Waihi through their dad Niel who spent his 'formative' years in Waihi.
The first radio interview ever recorded with the boys from Alien Weaponry happened on Gold FM when Henry was only 15 and Lewis and Ethan were just 13 years old.
Carver Waka Hauraki presented the band with an impressive Maori taonga when they visited their dad's turangawaewae and spent time at Waihi Community Marae in 2016.
The de Jong family have worked incredibly hard to take their brand of 'Te Reo Metal' to the world and the world has sat up and taken notice.
Alien Weaponry has been touring furiously around the world and is excited to be returning to the USA in September, where they will join Black Label Society and Black Dahlia Murder for 21 dates, followed by another 9 headline shows as well as Exit 111 festival.
The lineup this time around will be slightly different, as bass guitarist Ethan Trembath is returning to New Zealand at the end of the band's current European tour to complete his final year at high school. The band has been on the road or recording almost constantly since July 2018; and Trembath (17) admits it has been a struggle to keep up with his schoolwork.
"I don't like to disappoint our fans, but finishing school is really important to me," says Trembath. "It was a very hard decision, and I hope people will appreciate that."
Brothers Lewis (guitar and lead vocals) and Henry (drums) de Jong will be joined in North America by bass player Bobby Oblak, whom they met at Metaldays in 2018. Oblak recently toured with Alien Weaponry in New Zealand and Australia as a member of support band COPIA. He has toured extensively internationally over the past six years, with COPIA and other bands; and it was fortuitous that he was already in Europe, with a gap in his schedule during September and October that allowed him to join Alien Weaponry in North America.
"I recognised Alien Weaponry's 'kiwi' accents in the artist camping ground at Metaldays last year, and from the first time we struck up a conversation, we all got on really well," says Oblak. "I love their music and incredible energy on stage; and I'm stoked to be a part of it while Ethan is at school."
"We're sad that Ethan can't make this tour, but we understand and respect his wish to finish school," says Lewis de Jong. "Bobby is an awesome bass player and performer, and he's also a great guy, so we hope our fans will welcome him and show him the love you all gave us on our last North American tour."
Trembath will rejoin the band when they return to New Zealand in late October, where they will continue work on their second album, as well as playing a number of local shows over summer 2020, including the just-announced TUKI festival on 8 February.
Gold FM sends our best to the boys with respect and tautoko to Ethan for his decision to complete his schooling. We're looking forward to seeing him back on stage swirling his magnificent mane again.