LIVE MUSIC ON THE WAIHI BEACH HOTEL MENU FOR SUMMER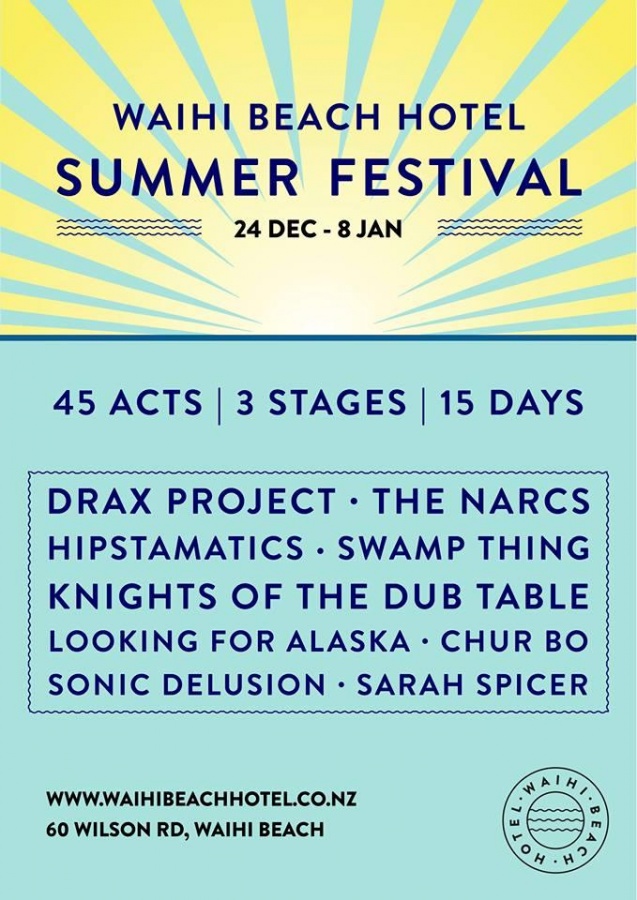 The Waihi Beach Hotel is synonymous with live music over summer and this year is no exception, with 45 live performances scheduled across 15 days kicking off on Christmas Eve.
The Summer Festival will feature top New Zealand acts including Drax Project, Swamp Thing, The Hipstamatics and The Narcs.
Held on three separate stages across the large venue, music fans and holidaymakers alike will hear everything from roots and rock 'n roll in the Garden Bar, to loop artists and singer-songwriters in the more intimate and family-friendly surrounds of the Bistro Deck.
Waihi Beach Hotel Event Manager, Liam Ryan, says:
"We're keeping it real by promoting bands with a feel good vibe and showcasing local musicians from the Waikato and Bay Of Plenty as much as possible. There is no cover charge for any of the shows, so this is a chance for the Waihi Beach community and the thousands of holiday visitors to the area to celebrate music and summer in style."
Ryan will take the stage himself on the keyboard for The Narcs, who are touring with special guests - former DD Smash drummer Peter Rooda and singer-songwriter Rikki Morris.
The Waihi Beach Hotel Summer Festival commences on 24 December and runs through until Sunday, January 8.
For the full Summer Festival schedule visit https://www.waihibeachhotel.co.nz/gig-guide/…