Smokefree Rockquest Winners Join Forces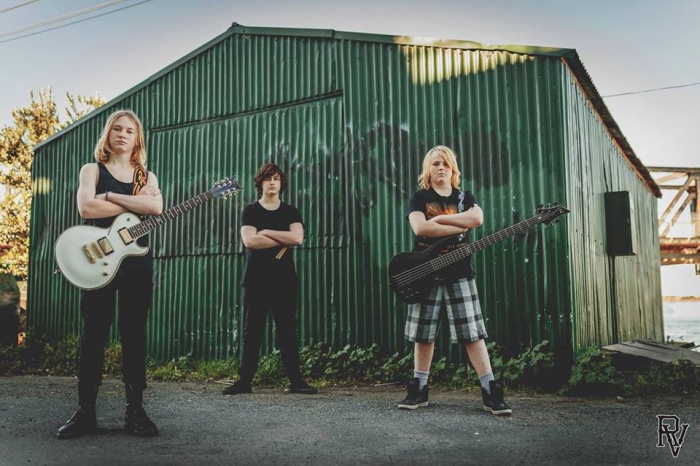 Smokefree rockquest winners Alien Weaponry (Northland) and Altered Blondes (North Shore) are joining forces this Friday to put on a killer show for Auckland's youth. The all ages show at the Ellen Melville Hall in the City runs from 5:30pm - 9:30pm and features four bands in total.
Teenage thrash metal band Alien Weaponry had a double win on Friday night, taking out both the Pacifica Beats award and first place overall at the Northland regional final of this year's Smokefree Rockquest.  After participating in five regional finals, it was a hard won victory, and a testament to the group's commitment and staying power. "We hope it will inspire other bands to keep at it," says lead singer and guitarist Lewis de Jong, who first played in the competition at age 10.  "We have learnt something and improved every time we have entered the Smokefree Rockquest."
Even though Alien Weaponry placed second at last year's regional final, they were selected to perform at the National finals of both Smokefree Rockquest and Smokefree Pacifica Beats based on their video submissions. Their song Ru Ana Te Whenua impressed judges and audiences alike, and they were runners up in both National finals. Their hard-hitting haka style was quickly dubbed 'Te Reo Metal' by (then) NZ On Air Music Manager Brendan Smyth.
The band applied independently to NZ On Air for funding to record and produce a video for Ru Ana Te Whenua, and were awarded a $10K 'Making Tracks' grant. They are the youngest artists ever to receive NZ On Air funding; and the single and video for Ru Ana Te Whenua is due for release soon.
"Entering Smokefree Pacifica Beats was a real inspiration to us," says 16 year old drummer Henry de Jong. "It encouraged us to explore our language and the stories of our tupuna, and create something really unique." The group also uses the pūrerehua and the kōauau (traditional Maori instruments) in the song.
Alien Weaponry has been working with Tom Larkin, drummer for NZ band Shihad, in an artist development and music production role since early 2015, after Larkin came across their music on YouTube and invited the band to open for Shihad at the Powerstation. He set them a task of writing 50 new songs over the summer, in preparation for more recording and the release of an album, which will contain works in both Te Reo Maori and English.
"These kids are leagues beyond their years and there is some incredible stuff on the way from them," says Larkin. "This is some seriously crushing metal." NZ music industry heavyweights who have heard a pre-release copy of the band's first single are already describing it as "a killer track."
The focus on song writing during the first half of 2016 has left little time for live performances, which means that the upcoming show at the Ellen Melville Hall on June 3rd will be Alien Weaponry's first Auckland show this year. The trio are looking forward to the all ages event. "It's great playing to an audience our own age," says 14 year old bass player Ethan Trembath.
Alien Weaponry will be supported by Flintwater Express, Bric-A-Brac and the North Shore's 2015 Smokefree Rockquest winners, Altered Blondes. 
The Ellen Melville Hall is at the corner of High St and Freyberg Place, Auckland City. Doors open at 5:30pm and tickets are $10 at the door.