Gold FM Drag Race
Note: This information is from a PAST event.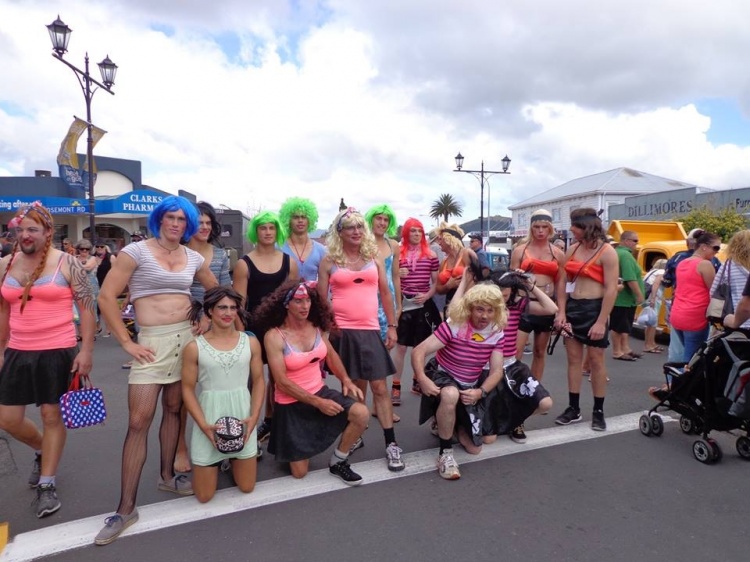 Location: Seddon Street, Waihi
Time: 12.15 pm
Cost: Free
From Drain Layers to Divas, from Farmers to Movie Stars, from Gold Miners to ...? We've seen it all and we liked it so much we want to see it again!
It's time for brave boys to raid their wives and mothers wardrobes, join up with two other besties to make a 'titillating trio' and strut their stuff at the Gold FM Drag Race for Beach Hop.
March 22nd is the day when having a run in your pantyhose takes on a whole new meaning, especially if you're a guy!
Waihi's Warm Up Party for Beach Hop is coming to town and the crowds like to be entertained.
At 12.30 Noddy from Beach Hop will flash his red starter's bra and set off a gaggle of gorgeous guys to surprise their mates, shock their mothers and take to the Seddon Street Drag Strip.
There's no need to worry about how your bum looks in your chosen outfit –just do it!
Rock your outfits, pass your handbags and sprint for the bras at the finish line.
Entries are open now. Email [email protected] or call us 07 863 9644 and we'll send you an entry form. You can also pick one up from Gold FM on Haszard Street or download it here Gold FM Drag Race
Contact: Gold FM 07 863 9644 email [email protected]